The e bike made electric cycling journeys and vacations more accessible.
E bike has made cycle touring more accessible to those with different levels of fitness and experience.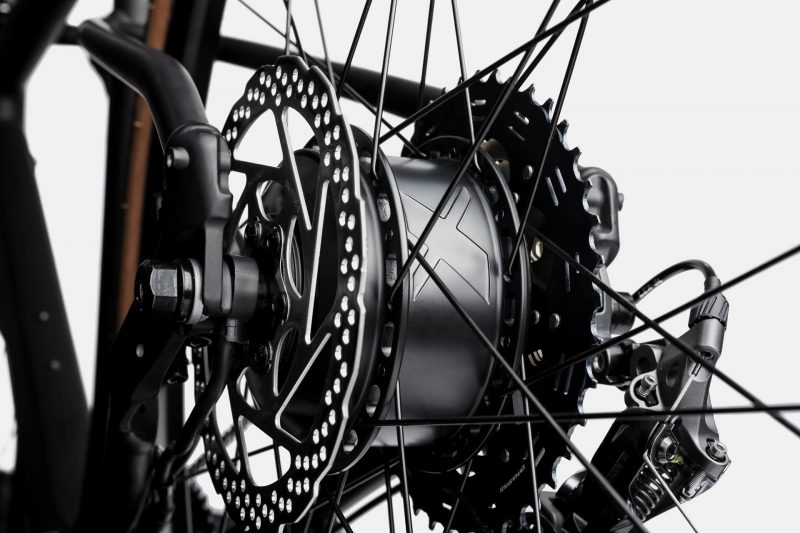 With the aid of electric bikes, cyclists can climb up and over hills, keep up with companions who are moving more quickly, or both.
Longer distances also seem doable because to the tiny, practically invisible engines.
Many of the local operator partners of marcopoloasia.com throughout the world are now offering e-bikes to make tours more leisurely or challenging terrain more manageable due to rising demand from tourists.
What are the uses of electric bikes for tours in Vietnam?
Electric bikes respond to and enhance your pedaling speed and power; they are not motorcycles or even mopeds. Instead, they offer power-on-demand while you are pedaling.
The power source is a detachable battery with a range of up to 50 kilometers (80km).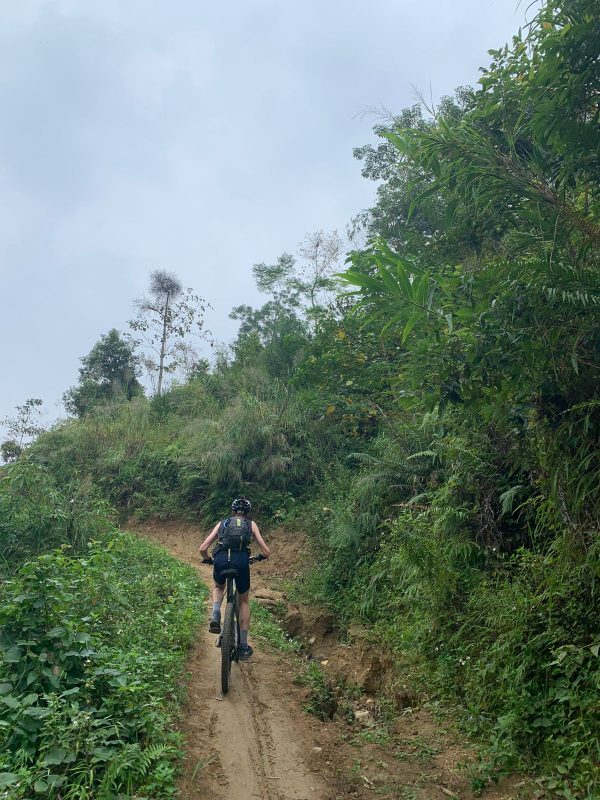 Vietnam electric bike tours
Today travel and cycling in Vietnam with electric bikes are extremely popular, people use electric bicycles everyday for work and exercise
This unique mountain biking tour, a cross country mountain biking from Hanoi to Mai Chau- Pu Luong … you spend more time and more cycling in asphalt broken road, trails, dirt trails and single track . More challenger mountain bike compare with 3 days trip as far as full of fantastic contrasts along its route.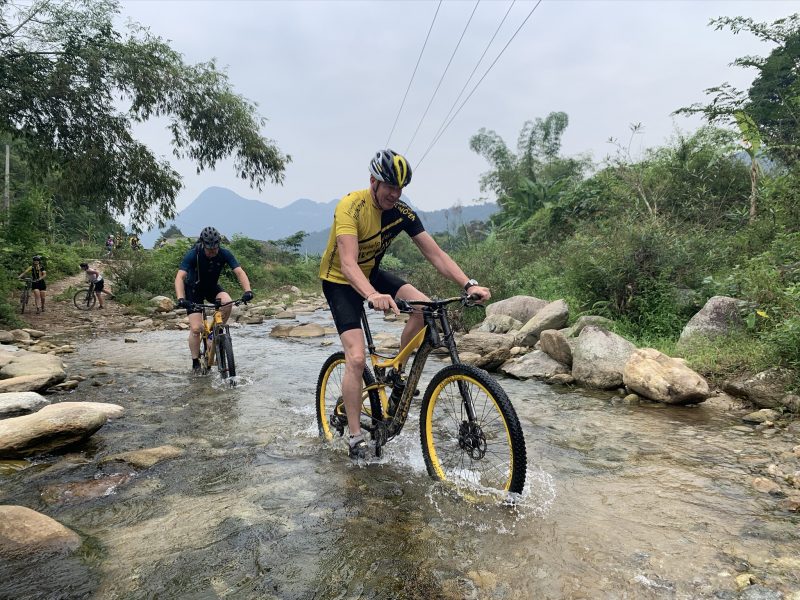 This is King of Mountain Bike Trails in Vietnam , allows you to reach one of the most delightful parts of the Northern Top in Vietnam where you'll find big rolling hills, great views and speedy open descents with good sight lines
Now you can discover the power of e-mountain biking.
You don't need a lot of endurance to join our biggest mountain bike tour right now. E-bikes will assist you in this endeavor.
Electric mountain bikes are a powerful tool that opens up new riding opportunities, whether you want to breeze through the climbs or extend your ride. Discover the most amazing e mountain bike destinations in Vietnam with Biking Vietnam.
Local Travel adventure cycling with E bike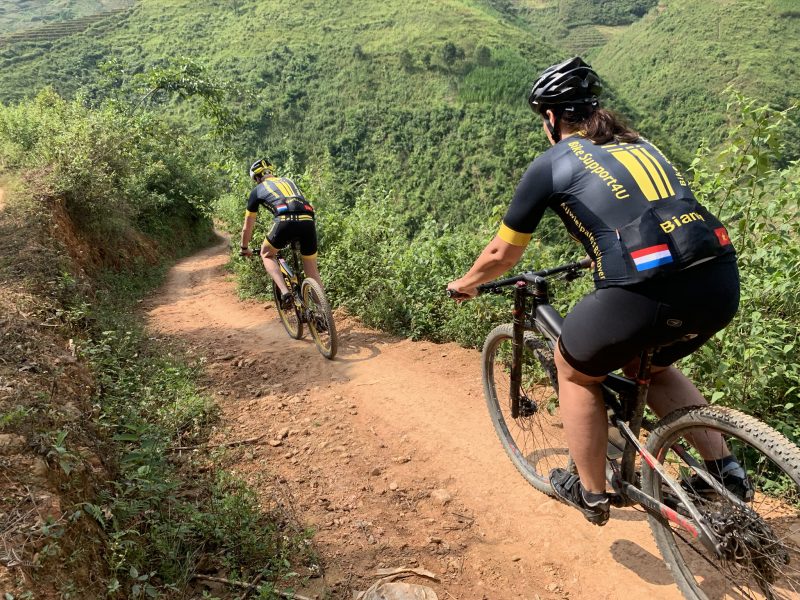 This tour offers challenging gravel dirt trails mountain bike Vietnam and a wonderful opportunity to experience the traditional and varied lifestyles of the people of this spectacular country.
TRIP HIGHLIGHTS.
2 half day and 4 full day dirt road, trails Mountain Bike Vietnam Challenger
trip cover more than 320km
cross-country challenger
Challenging mountain bike adventures for the mountain biker group tour
Cannondale lefty or
stay in small town with simple accommodation in 2 star hotel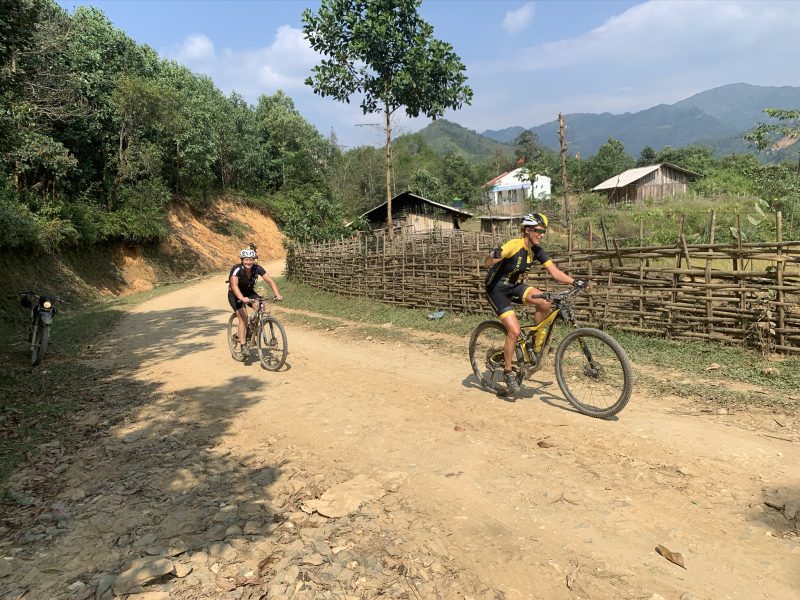 Real challenging of cross- country mountain bike, some technical on off road riding , hard climb on day1 and day2. A wonderful opportunity to experience the traditional and varied lifestyles of the people in this spectacular country.
2 half day and 2 full day mix of gravel and off road Mountain Bike
trip cover more than 160km
cross-country challenger
Challenging mountain bike adventures for the mountain biker group tour
Fun off-bike adventures and beginner MTB lessons for the non-biker private tours only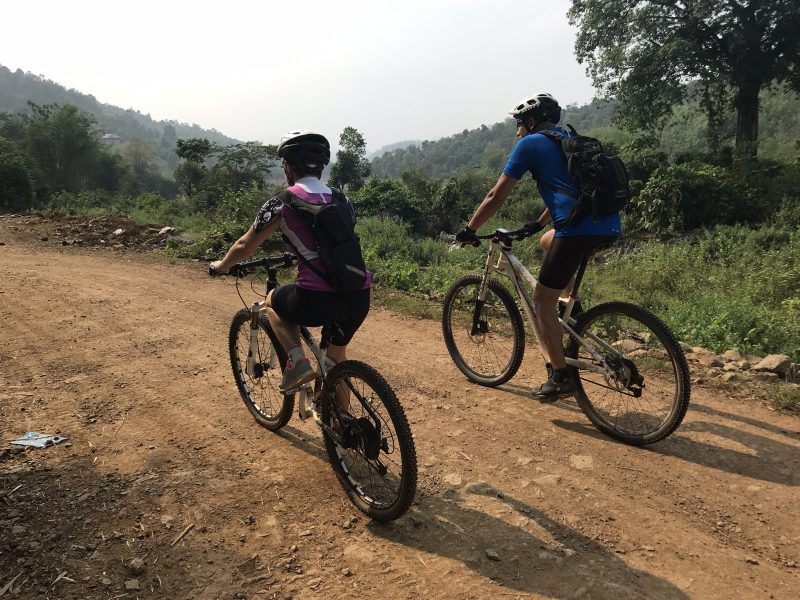 3 day off road Mai chau Mountain Bike challenger trip covering more than 110 kilometers , asphalt road ,off road, single track and trails use by local people. Mountain biking through forested, climb up hills and down hill into forested valleys, home stay with Thai Hilltribe people house . The best of off road mountain biking trip around Hanoi.
2 half day and 1 full day off road Mountain Bike
trip covering more than 110 kilometers
asphalt road ,off road, single track and trails use by local people.
experienced mountain bikers for group tour
experienced mountain bikers and parner who dont mountain biker for private tour
simple accommodation in home stay with local people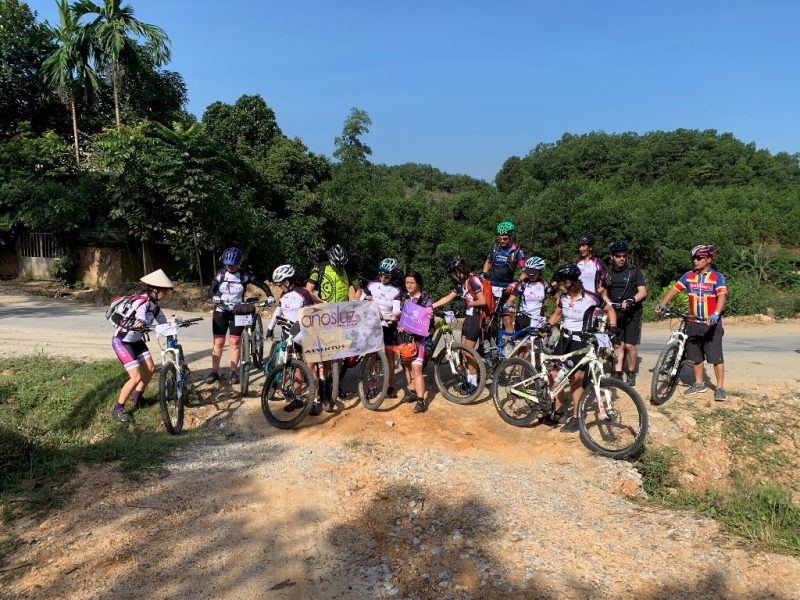 Takes place in the mountainous region surrounding Bac Ha- Hoang Su Phi
Deep in the far north west. With a backdrop of the Tay Kwon Linh peaks in Ha Giang Vietnam, you will have the chance to test your skills on everything from smile-inducing single track and flowing descents to killer climbs.Aside from the fantastic mountain biking, you'll cycle through spectacular countryside, through minority villages, rain forests, rice fields, tea plantations and lush landscapes. The off-road tracks will take you over challenging terrain, across narrow suspension bridges and past glorious waterfalls. You will feel like you are the first one to discover these hidden away natural wonders as you pedal through amazing, off the beaten track scenery with locals, keen to show you where the best spots are at. Enjoy awesome biking, authentic Vietnam, fantastic food and great cycling on this 5-day trip not to be missed.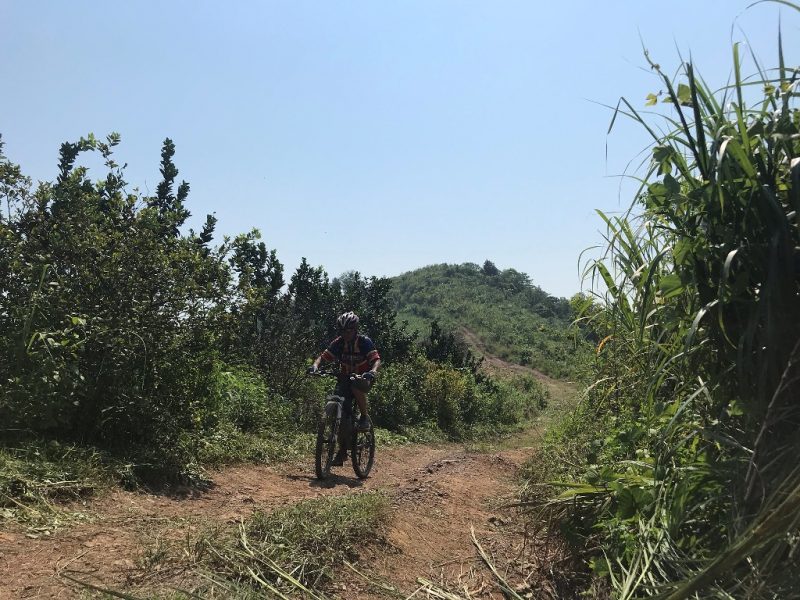 Do you want to try more aggressive and challenging trails of Hanoi mountain bike?
Sign up and you will have a lot of fun with us! Perfect for anyone looking for some of challenges mountain biking .
we start provide Electric-mountain bike in Hanoi come with this trip .
Hard pedaling will consume little battery juice.
Yet as you slow down, a delightful little lift comes from the electrical assistance.
With each pedal stroke, the majority of e-bikes produce up to 150% of your own power.
Depending on the terrain, you can increase the amount of assistance you want and turn the motor on or off.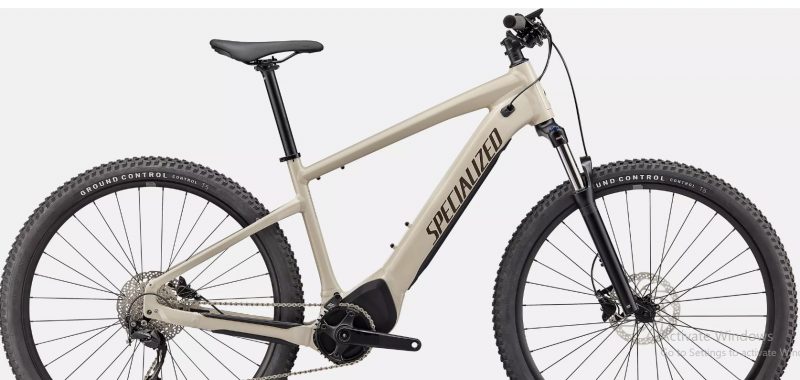 The electric bicycle weighs about 50 pounds (23 kgs).
It has a cycle computer, wattage display, and backlit LCD display.
In Europe, the top speed limit is restricted, and the battery will help up to a 25 km/h (15 mph) pace.
Although if e-bikes offer a lot of support, you should still get ready for your time in the saddle.
E-bikes work well for:
Couples
Couples frequently wish to travel together, but their varying levels of skill make that difficult.
In these cases, one partner may ride the tour's daily route on bikes while the other travels in a support van or by public transportation to meet them where they will be for the day's destination.
Occasionally the less physically fit (or interested) spouse will attempt to cycle with the enthusiast but ends up slowing down or riding behind the group—not very enjoyable for anyone.
2) multigenerational households
The same difficulties arise when traveling with multiple generations of a family; certain family members may not travel as fast or far as others.
E-bikes provide a way for everyone to take part and keep up a pleasurable level of effort.
(Note: Our tour operator partners advise against getting kids an e-bike.)
3) Travelers with disabilities
Travelers with disabilities or who are recovering from injuries can still enjoy an active vacation by renting an electric bike.
Riders in less-than-perfect health receive assistance when necessary or appropriate, because they compensate proportionally to your effort.
4) Visitors on their first bike tour
Some would-be cyclists are concerned about their ability to keep up with their group.
However, the reassurance provided by an e-bike encourages many people to step outside of their comfort zone because they know no one will be waiting for them.
They won't have to worry about being too slow, and they'll be able to enjoy the views and sights along the bike tour route more fully.
5)Anyone!
Even experienced cyclists and bike tourists can benefit from an e-bike.
The extra power when climbing hills is always welcome, especially at the end of a long day of riding!