Dirt Trails Mountain Bike 6days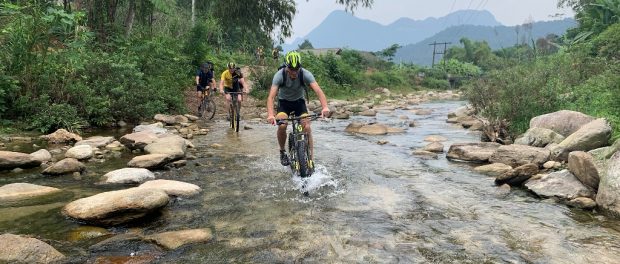 Dirt trails of Tonkin Alpes
This tour offers challenging cross country mountain bike and a wonderful opportunity to experience the traditional and varied lifestyles of the people of this spectacular country.
You love a mix of different types of riding; from dirt road, trails, windy singletrack to fast and steep downhill trails to adventurous backcountry doubletrack. You are up for a few challenging climbs along the way if it means being rewarded with incredible views and long, thrilling descents. Elevation on this with the highest peak we'll reach is 1,800m and we'll be pointing our bikes down from there.  Most of the trails we access throughout this trip are in very remote areas, accessible only by rugged fire roads and jeep tracks . Is this ride for you ?
TRIP HIGHLIGHTS.
2 half day and 4 full day  off road Mountain Bike Challeger
trip corver more than 320km
cross-country challenger
Challenging mountain bike adventures for the mountain biker group tour
stay in small town with simple accomodation in 2 star hotel
Testimonials of this trip
Hi Joe
I hope you are doing fine.
I like the MTB trip so much in Vietnam that I want to come back again.
Nora Senn
Day 1: Hanoi- Yen Bai- Lao cai : (L,D ) ( riding 80km)

Meet in hotel ( 7: 00AM), driving out of Hanoi city. transfer to Yen BaiStart riding ,It's a fascinating ride past local villages behind on Red River . We ride pass of rice field and tea plantations before arriving in the town for lunch, continue biking to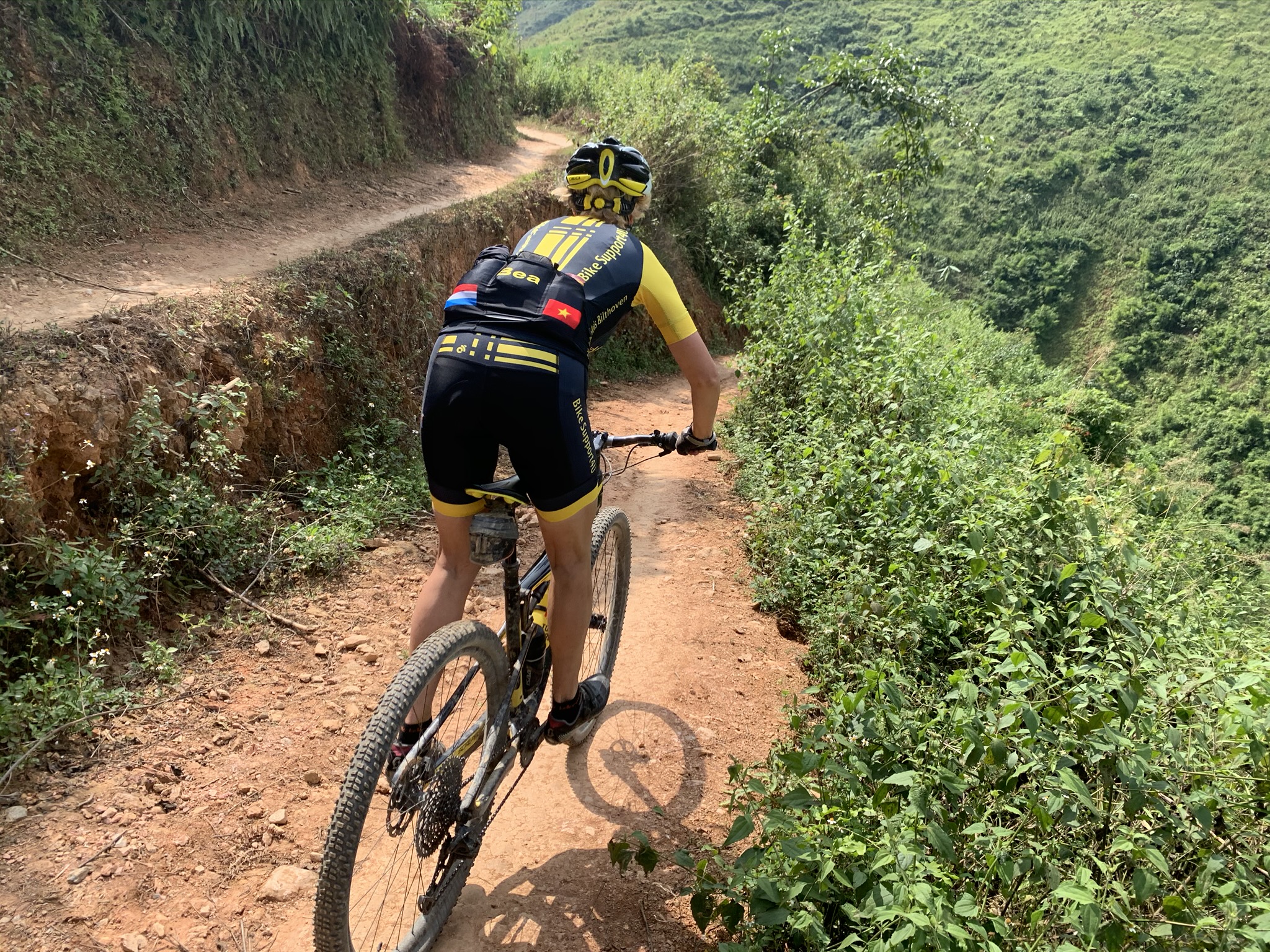 Lao Cai. About 40 km off road track (pretty wide) start climbing on the left. After many villages and a beautiful narrow suspension bridge, we enjoy a long wide track section, starting on terraces , leading to an off road pass , and finishing on a long wide track offroad near river .Lunch with noodle soup and breads, fruits, tea coffee. We ride until get to the asphalt where the minibus is waiting at BaoHa , take  long transfer (60') to LaoCai. Night in Hotel in Lao Cai
Day 2: LaoCai- Cocly -Bac Ha ( 45 km, offroad, trails, dirt road )

Arrival Laocai at 6:00 AM in the morning, Breakfast in Local restaurant with rice noodle soup  , banana pancake, breads, coffee, tea… Transfer by van to CocLy, boat trip to Bao Nhai,  stating riding to  NamDec  with 2 of climbing with 10% , more than 6 and 5 km per one climb. After more than 20 km  we will stop for lunch, after  lunch  riding down to Bac Ha. Overnight in Bac Ha . Dinner in Congphu local restaurant.
Distance: +- 55 Km. D+: 1250m
D-: 500m. (B,L )
Day 3: Bac ha-XinMan ( 55km, off road, dirt road, asphalt road )

After breakfast in Hotel, we start biking directly from hotel, climb above Bac Ha through Di Thau. Then ride off road in the mountain on a wide track to a mountain pass and long asphalt downhill to Xin man.
Overnight in hotel in XinMan. Dinner at first "Basic" Hotel.
Distance: +- 55 Km. D+: 1200m   D-: 1200m. ( B,L,D)
Day 4: Xin Man -Hoang Su Phi ( 45 km, off road )
After breakfast transfer by car directly from hotel on flat asphalt road. About 25 Km, we biking an off road track (pretty wide) start climbing on the left. After many villages and a beautiful narrow suspension bridge, we enjoy a long single track section, starting on terraces by long climb, leading to an off road pass (about 1300m of elevation) and finishing on a long downhill through waterfalls and rain forest. Lunch with what you will prepare in the morning .
Then we get to the asphalt where the minibus is waiting and transfer to Hoang Su Phi ( 30km ) One Motorbike will assistance group until meet mini bus.Minibus goes with Guest from this meeting point  to a small asphalt pass (tough climb and long steep downhill).Night in Hotel.
Distance: +- 50Km. D+: 1300m   D-: 1230m. ( B,L,D)
Day 5: Hoang Su Phi– Vi Xuyen- Ha Giang (50 km, off road )

After breakfast clients are riding from our overnight place to the starting point (6 km). A climbing ride takes us through the typical villages and landscapes of this region we got to know yesterday. Again we find longer single track sections with a climb through terraces until we reach an off road pass of about 1300 m of elevation. A downhill section passing waterfalls and forests brings us to the asphalt at Vang Luong village. There our minibus is ready for a 15' transfer to a place where we can relax and freshen up with warm underground water for a small fee. A motorbike will assist from the start to the meeting with the minibus.  30' transfer takes us to Ha Giang where we have dinner and spend the night in a hotel.
D+: 1300m   D-: 1230m. (B, L,)
Distance: 45 Km.  D+: 300 m.   D-: 350m. (B,L )
Day6: Ha Giang- Bac Quang  (40km )

In the morning after breakfast a car takes the group out of the city (5 km). Then off road cycling through basically flat country side for some 35 km. After lunch we get back on the car and drive to Hanoi (230 km). End of services. (B, L)
Tour overview
Group Size booking:
2 people =910 USD /person
4-5 = 880USD/person
7-10=  850USD/person
Note: Prices are based per person, double occupancy, with a separate cost for solo travelers. If you are traveling in a group but prefer single accommodations, a single supplement fee applies. Triple accommodations are not available in many of the destinations we visit.
Best Time to go From October to May
Guanranteed to run from 2 people booking
Looking for private mountain bike tours ? Please contact :
WHAT'S INCLUDED
English speaking local guide
Accommodations in hotels, home stays and  local hotel around trip as mention
Meals as mention with B= breakfast, L= Lunch, D= dinner
Sightseeing and activities as noted in the itinerary
Ground transportation
Additional guides where necessary
Entrance fees and permits
Basic medical
Cannondale Scalpel full suspension
WHAT NOT
International airfare; meals not noted on itinerary; Vietnam visa; insurance other than basic medical ; optional tipping to leader, guides and local staff; excess baggage charges; international airport taxes; cost of medical immunizations; items of a personal nature (alcoholic beverages, laundry, etc.).
Total Distance
+- 380 km
Number of cycling days
6 days
Average Daily Distance:
40-50 km
Off Road
62%
Max. Altitude
1,400 metres
Road Surface:
This tour follows a mixture of well-surfaced roads and  off road onto single track, and rough tracks, so some off-road riding skills are an advantage.
Support:
One or two 15-seat air-conditioned transit vans converted to take bikes and bikers.
Group Size:
Minimum 2. Maximum 8.
Staff:
Groups of 6 or more  Vietnamese cycling guide and drivers and assistants. Groups of 2-5, an experienced English speaking Vietnamese cycling leader plus guide and support team.
Accommodation :
in comfortable tourist class hotels, and basic tourist class home stay. All accommodation has a/c or fan, hot water and private facilities in hotel , share bathroom in home stay.
Food :
All meals are included as B= breakfast , L= lunch, D=dinner .
Break every 15- 20 km ( 10 miles)  for tea break with water, coffee ,tea, juice, bread, tuna ,banana, apple… 
During the " BikingVietnam.com"  the main meals are breakfast and the evening meal. Thus, breakfast should be large and substantial (and include cereals). We recommend that all participants should bring a supply of their favorite cereals as many of the hotels where we stay don't yet have cereal on offer at breakfast.
For lunch (picnic) you will need to make sandwiches in the morning, and take some fruit. We recommend you also bring along some of your favorite energy bars.
The evening meal will be in a restaurant, and precooked by the Organizers. We will make sure there are always plenty of carbohydrates and protein on the menu.
Don't forget adequate hydration is as important as a good meal and so you should make sure you carry enough water with you. In some stages there is no where to "top up" along the way. Follow your guides instructions for each stage. We recommend you use a hydration pack with at least 2l capacity, rather than water bottles. The water bottles don't carry as much water, plus it will get warm during the day, they are not as hygienic and the water bottle cage can get in the way when you may have to carry your bike.
NUTRITION
We recommend you should bring nutrition  as  details:
* Hammer Gel energy gels are 100% pure complex carbohydrates
* Clif Bar- energy bars are a great-tasting, convenient source of energy for any activity. Made with 70% organic ingredients
Mix of carbohydrates, protein, and fiber promote steady increase in blood sugar levels followed by a gradual decline for sustained energy
4:1 ratio of carbohydrates to protein; excellent for post workout recovery "
Biking Grade : Challenger 
Scenery  : 5 star
Summary
Author Rating
Brand Name
Marco Polo Travel-www.bikingvietnam.com
Product Name
Dirt Trails Mountain Bike
Price
Product Availability