Vietnam Cambodia roads cycling
Experiencing a holiday in Vietnam and Cambodia and you will discover the allure of an unspoiled and little explored countries which for many travelers with a sense of adventure is irresistible.
In the spirit of Pioneering overland expeditions we have a brand new adventure for you. With the recent opening of a border checkpoint in the North East of Cambodia, we can now cycle from the ancient town of Hoi An to Angkor Temples, through the Ho Chi Minh Trail and the Mekong Basin and up across into Cambodia. We cycle through the highlands of Vietnam and finish with a fantastic ride along small towns to Siem Reap.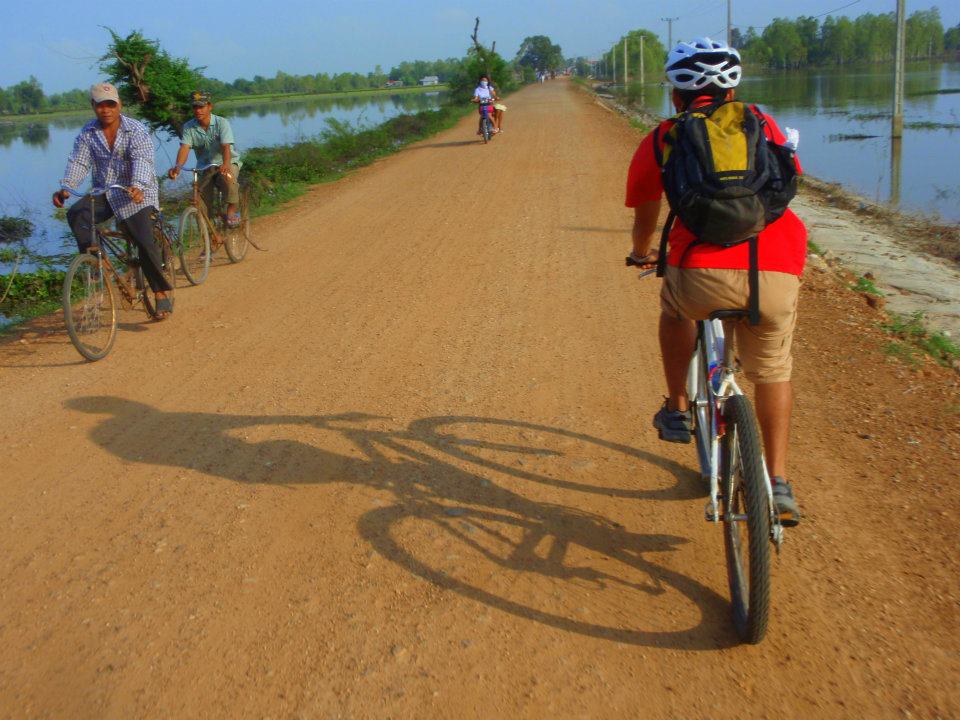 DAY 1: HANOI ARRIVAL [/-/-/]
   Arrive Hanoi International Airport then you will be transfer to your hotel . Rest of the day is free at your own leisure. Lunch and dinner is on your own account.
DAY 2: HANOI FREE DAY AND NIGHT TRAIN TO HUE  [B/-/D]                      
   Today is also free to meet Hagar Vietnam Team and to visit some of their projects in the area. This evening we will meet for our welcome dinner at local restaurant and to brief you for your upcoming cycling adventure. Then take a night train to Hue. Overnight on the train.
DAY 3: HUE ANCIENT CITY (40km)  [B/L/D]                                                                                                 We will be transferred from train station to our hotel. After breakfast we start our adventure to explore this ancient city of Hue. We pedal through Hue's King Royal Palace, a succession of Nguyen Dynasty. Afternoon cycling to country side until 5PM transfer back to city. We will enjoy our dinner in garden house.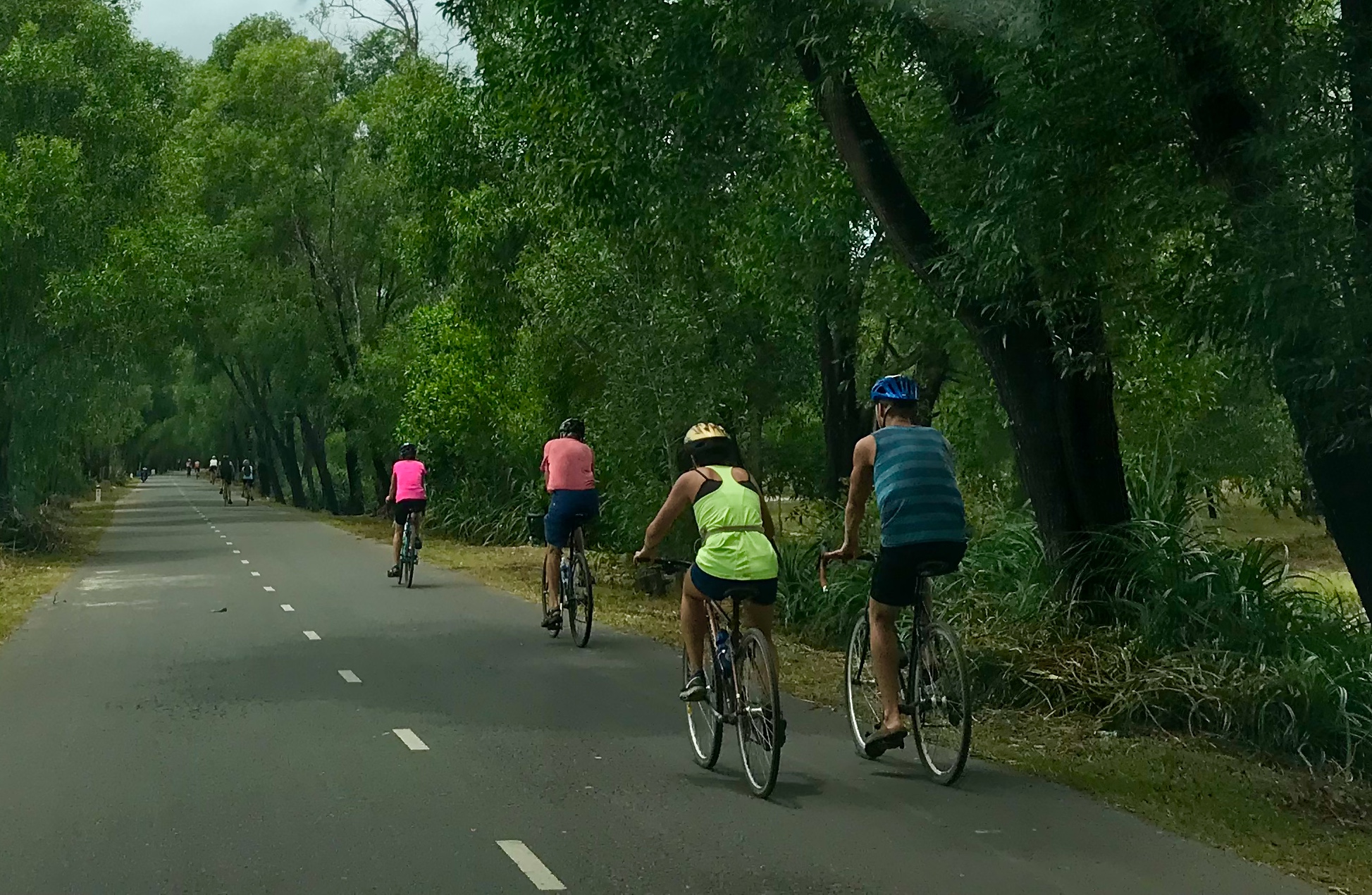 DAY 4: HUE TO HOI AN (70km)   [B/L/D]                                                                                  
   Our second day of cycling is from Hue to Hoi An. We will cycle in back road of country side from Hue to Vinh Hai Beach. Our route passes by rural villages and picturesque Lang Co lagoon an ascent of the pass with stunning views of the coast and a thrilling 5-mile descent from the top of the green rice fields around Danang. End cycling in Danang and transfer 32km to Hoi An.
   DAY 5: CYCLING HOI AN (40km)  [B/L/D]                                                                              
We explore Hoi An today – country side villages in the morning for Vietnamese cooking lessons in town featuring local specialties by one of Vietnam's most talented chefs. Local sea food in beach of Hoi An. Hoi An Ancient Town is an exceptionally well-preserved example of a South-East Asian trading port dating from the 15th to the 19th century. Its buildings and its street plan reflect the influences, both indigenous and foreign, that have combined to produce this unique heritage site.
DAY 6: HOI AN TO NGOC HOI HIGHLAND (80km) [B/L/D]                                                     
Cycling to  Ngoc Hoi , pass many old military base. The ride with river and tribal villages along the road. End of  riding day then driving to Ngoc Hoi . Ngoc Hoi is a small town located near border of Laos on Ho Chi Minh Trail. From Ngoc Hoi it's about 20 kilometers to Bo Y border.
    DAY 7: NGOC HOI TO KONTUM AND PLEIKU (120km) [B/L/D]                                                 
We follow the Hochiminh trails highway  to Kontum.  We will have a bus transfer to the summit of a long, high pass to Plei Ku. Mountainous and in the wet season very, very wet, Gia Lai province sits in the centre of Vietnam's Central Highlands. The provincial capital, Pleiku, sits at the junction of Routes 19 and 14, making it the crossroads for any exploration of the Highlands.
   DAY 8: PLEI KU – CAMBODIA BORDER – BANLUNG (max 85km)  [-/L/D]                                                       
Upon arrival you will be met by your Cambodian cycling crews. Then you continue your riding along a recently paved, winding road with some ups and a few less downs as we climb into the highlands that are home to the former Ho Chi Minh Trail. While the exact location of the trail is hard to pinpoint, it is obvious from the surrounding terrain and dense forest that it was no easy feat for the North Vietnamese to use this as their main supply route between north and south during their war with the US. Arrive Banlung and check in to your hotel before taking you out for dinner
Accommodation at Terres Rouges Lodge, fan room – www.ratanakiri-lodge.com
DAY 9: BANLUNG – STUNG TRENG (90km) [B/L/D]                                                      
After breakfast you will be transferred for 3 hours to the border of Laos PDR and then meet the Mekong River at a point just below a series of falls and rapids. These falls re-oxidize the water and make an amazing area of Bio-diversity possible. We take to our kayaks and gently drift down the Mekong River, through a flooded forest that is home to a wide range of bird-life. After a few hours of kayaking, we enjoy a picnic lunch, then meet our van again for the drive down to Stung Treng Province. We first drive back to the Laos border and then meet the Mekong River at a point just below a series of falls and rapids. These falls re-oxidize the water and make an amazing area of Bio-diversity possible. We take to our kayaks and gently drift down the Mekong River, through a flooded forest that is home to a wide range of bird-life. After a few hours of kayaking, we enjoy a picnic lunch, then meet our van again for the drive down to Stung Treng. Tonight you experience a special dinner at Le Tonle Tourism Training Centre where young poor locals are being trained in hospitality and tourism skills to ensure a better future. Having dinner her mean you will get real Khmer food with personalize service from the students.
Accommodation at Gold River Hotel (2 star), standard room – www.goldenriverhotel.com
DAY 10: STUNG TRENG – KRATIE (max 85km)  [B/L/D]                              
Today you will get up early to have breakfast in the town as your hotel does not have a restaurant. We have a long day riding today as we head to Kratie Province, a small provincial capital located on the bank of Mekog River. You stop at Kampi to take one hour boat to see Irrawady dolphin. You then cycle to Kratie Town then board a ferry to Koh Trong where  you will spend a night with homestay. You should only bring your backpack and keep all of your luggage in the bus. Enjoy tasty Cambodian food with your hosted family.
Accommodation at homestay – No websit
DAY 11: KRATIE – KOMPONG CHAM (max 85km)    [B/L/-]                                        
You transfer south through the town of Chhlong and take a ferry to the western bank of the Mekong to start riding from Phnom Han Chhey on quiet roads along the river, through small rural villages and scenic countryside. We stop for a drink and snack at the tiny town of Chhlong. The many French colonial houses in this town are amongst the most beautiful in Cambodia. It is a scenic ride as we pass many Cham communities which are predominantly Muslim. Buddhist pagodas form a pretty contrast with small mosques and the particularly friendly locals will welcome you warmly in each village you pass. We cycle up to Wat Han Chhey, a small hilltop pagoda that houses an 8th century pre-Angkorian temple and offers spectacular views over the Mekong. Here we can enjoy a well deserved picnic lunch com plimented by sweeping views of the Mekong . From here we will cycle the last 22 km to Kampong Cham, where you can relax at the hotel's swimming pool.
Accommodation at 7 Makara Hotel (2 star), standard room – www.7makarahotel.com
DAY 12: KOMPONG CHAM – KOMPONG THOM (max 80)  [B/L/-]                             
We leave Kampong Cham over dirt and tarmac roads along the Mekong and eventually head for a quiet secondary highway towards Kampong Thom. You will be flanked by rubber plantations, paddy fields and typical Khmer villages on today's ride. Kampong Thom is a picturesque town on the banks of the Stung Sen River, which hosts the magnificent Khmer temple site Sambo Prei Kuk.
Accommodation at Sambor Village Hotel (boutique) – http://samborvillage.com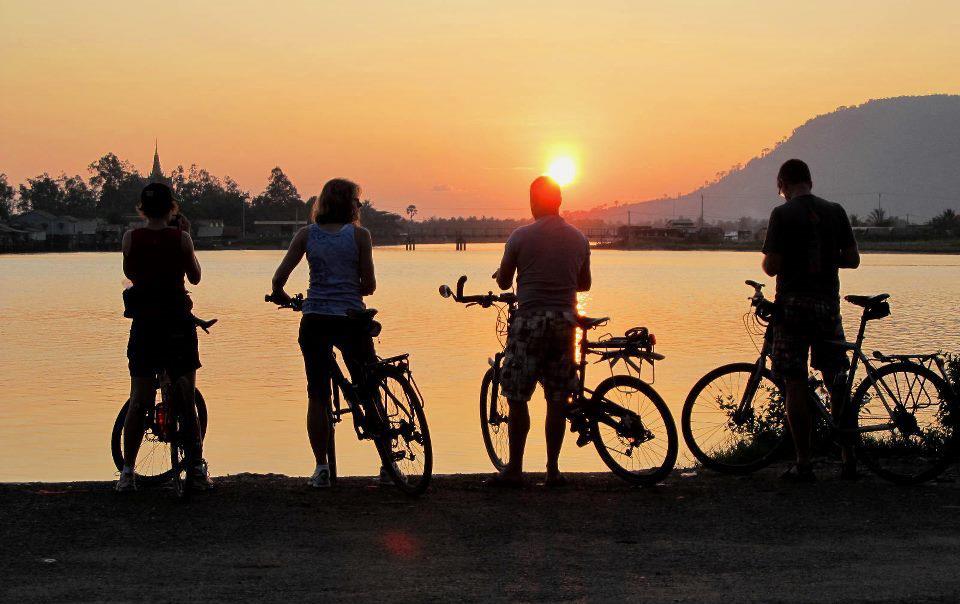 DAY 13: KOMPONG THOM – SIEM REAP (max 95km)   [B/L/-]                                   
After breakfast you drive about one hour to the town of Kompong Kdei where you will start cycling. You will pedal pass quiet villages, rice paddies, palm trees and some new irrigation system in the area. You stop at Makak Dam for a rest. This man made dam is built during Khmer Rouges regime and it is useful until today. After another 20km you will arrive at Kvao Village then you turn left via 700 year old ancient road to Beng Mealea. After a quick look into this ruin temple you do a final shoot to Dam Dek then transfer to Siem Reap for the night.
Accommodation at Royal Crown Hotel (3 star), superior room – www.royalcrownhotel.com.kh
DAY 14: CYCLE ANGKOR WAT TEMPLES (40km)  [B/L/D]                                              
This morning you will meet your specialist temple guide once you are ready you will begin your cycle exploration of these incredible temples. Today you will focus on the Small Circuit which features temple greats such as: the pyramid of Takeo, the jungle-clad Ta Prohm made famous by the Hollywood blockbuster 'Tomb Raider'; Sras Srang known as the King's bathing pond; and the impressive Royal City of Angkor Thom, where you will find the Bayon, a temple famed for its many gigantic carved faces smiling beguilingly down at you. You will also visit other important sites in this immense walled city. After lunch it is time to take on the majesticAngkor Wat, the world's largest religious building. After being initially inspired by its overall size you will explore in more detail, getting up close and personal to fully appreciate its architecture and intricately detailed bas-reliefs. After returning to the hotel you are free until be taken to local restaurant for a farewell dinner.
DAY 15: SIEM REAP DEPARTURE (0km)  [B/-/-]                                                            
   After breakfast  you will be free till transfer to airport for your onward flight.
| | | | |
| --- | --- | --- | --- |
| Group Size |  2 | 4-5 |  6-7-9 |
| Price /person | 2,880USD | 2,350USD |  2,180 |
VIETNAM CAMBODIA CYCLING INCLUSIONS
Air conditioned support vehicle
Accommodation (aircon)
English speaking local guide
English speaking local cycle guide / mechanic
All entrance fees for attractions included in the above itinerary
Daily drinking water, cool face towels & snacks whilst cycling
All boat trips as detailed
All meals as detailed in the above itinerary
(B = Breakfast – L = Lunch – D = Dinner)
VIETNAM CAMBODIA CYCLING EXCLUSIONS
Services not detailed in the above itinerary
International flights to Vietnam / from Cambodia
Vietnam & Cambodia Visa fees
Any airport taxes
Bicycle, however they can be hired for $120
Expenditure of a personal nature
Drinks with included meals
Discretionary Tips
Travel insurance
Payment / money transfer charges