We offers North East Vietnam challenging road cycling to Ha Giang through a stunning unexplored area rich with cultural and geographical wonders that call is Dong Van Karst Plateau Geographical boundaries to the west of the Northeast . Mainly due to the lack of consensus among the geography of Vietnam on the boundary between the Northwest and Northeast to the Red River, or should the Hoàng Liên Sơn. The Northeast is limited to the north and east by Vietnam-China border. Southeast overlooking the Gulf of Tonkin. The southern limit by Tam Đảo mountain range and the Red River Delta.
[
-slider id=499]
The unusual landscape at the top of Ma Pi Leng Pass
Conquering the 1,800m summit of the highest road on this trip
high speed descents from Me Pia pass
It's more than 1500 km cycling round trip
Amazing karst limestone scenery of Dong Van-Meo Vac – Cao Bang
Cycling of challenges every day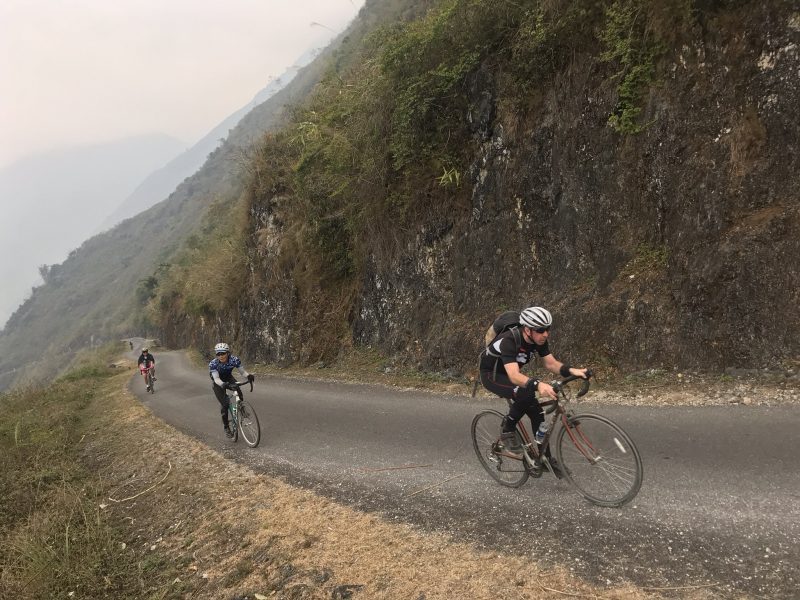 so in order to fit in the best bits of cycling and to miss out some of the busier urban sections, This trip Dong Van Plateu cycling holiday in Vietnam uses transfers to get us out of the cities and onto the quieter backroads. Don't let this put you off however – it just means you can save your energy for the great riding that can be found off the beaten track.
Night 1: Hanoi- night train
Meet in hotel, transfer to train station at 20h30. Take overnight train to Lao Kai. Sleep on train.
Day 1: Lao Cai- Bac Ha ( cycling 120km )
Arrival Lao cai around 6:00 Am , after breakfast transfer to Muong Khuong then we start cycling to Coc Ly and Bac Ha . Overnight in Bac Ha. ( 6-7hours cycling, 4/5hard climb ). ( B,L )
Day2: Bac Ha – XinMan – Hoangsuphi
Distance: 95km.D+: 1100m D-: 1600m
After breakfast in Hotel, clients start biking directly from hotel, climb above Bac Ha through Di Thau. Then ride in the mountain on a wide track to a mountain pass and long asphalt downhill to Xin man. Lunch with pasta and fruit.
In the afternoon, clients bike on asphalt about 15-20 km along River Chay before final transfer to Hoang Suphi.
People motivated and very feet can ride all the stage long to Suphi (75 Km).
Overnight in Suphil. (B ,L,)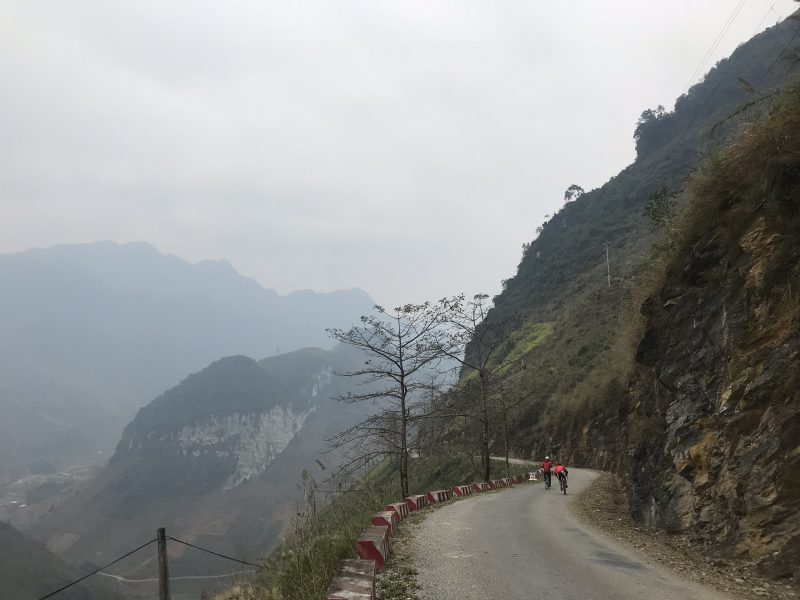 Day3: Hoang Su phi – Viet Lam – Ha Giang
Distance: 130Km.D+: 1100m D-: 1230m
After breakfast clients start biking directly from hotel on flat asphalt road. After many villages and a beautiful narrow suspension bridge, we enjoy a long wide track section, and back road starting on terraces by long climb, leading to an off road pass (about 1300m of elevation) and finishing on a long downhill through mountain and rain forest. Lunch with noodle soup and breads, fruits, tea coffee.
Minibus goes with Guest from this meeting point to a small asphalt pass
Then, small transfer (about 30') to Ha Giang. Night in Hotel. (B ,L )
Day4: Ha Giang to Quan Ba -Yen Minh
Setting off this morning we head out of town cycling for the first 25km on relatively flat road through the landscape of terraced rice paddy fields. Passing through minority villages we cycle the next 25km up winding roads into the vast limestone mountain range with its perpendicular walls of rock, climbing 800m towards the mountain road pass "Heaven gate 1". As we pass through mountain villages sometimes covered by cloud, we will receive a friendly greeting from the local communities. From the pass we can look down at amazing views, including the famous vista of the Tam Son valley with the 'Twin Hills and can spy Quan Ba town, our destination, in its beautiful location. It's mainly downhill for the last 15km into Quan Ba. We will want to take our time today as our beautiful surroundings offer numerous photo opportunities and the rocky limestone and karst terrain is as diverse as it is beautiful. We cycle uphill for the first few km before a descent of around 10km and then relatively flat terrain for the next 10km. It's a challenging up and down terrain to an altitude of 1.025m before we make a final descent for the last 15km into Yenh Minh. We will have the chance to see the traditional homes of the local hill tribes. The communities in this area are Chinese.
Accommodation: Hotel (B, L)
Cycling distance: 93km
Total climb: 665m
Total descent: 1,131m
Day5: Yen Minh Climb over the Rocky Plateau to Dong Van, and Meo Vac.
Today we cycle on semi-surfaced quiet roads as we undertake a challenging uphill ride out of dense cedar forest onto the rocky Dong Van plateau. A registered UNESCO Global Geopark, 80% of the terrain is covered by rock and it is said to contain fossils from 400-600million years ago. Nestled in a valley in the heart of the Rock Plateau, is the isolated town of Dong Van, very close to the Chinese border and surrounded by mountain forest and multi-coloured orchids. Meaning 'sharing culture' Dong Van is occupied by Chinese Hoa, and H'mong, Tay and Kinh People. The houses are built in Chinese style. As we cycle on the modest road from Dong Van to Meo Vac alongside a vast gorge, the views are spectacular. This is a winding and undulating road with the sight of the Nho Que River below. From the Ma Phi Leng Pass we look down from an altitude of around 1500m into the valley. We stay tonight in the small town of Meo Vac. Most of the tribes living here have preserved their way of life from outside influence as travelling to Meo Vac was almost impossible until the recent construction of new roads.
Accommodation: Hotel (B, L)
Cycling distance: 90km
Total climb: 2,256m
Total descent: 1,605m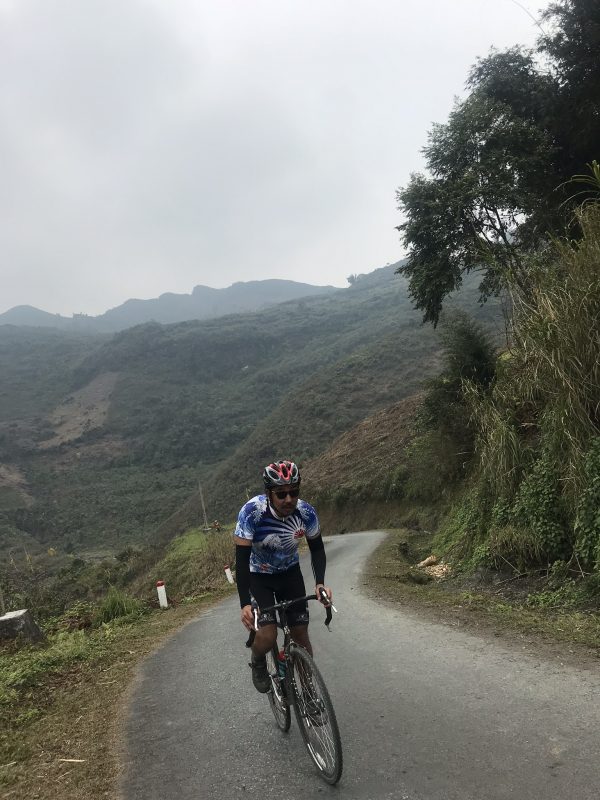 Day 6: Meo Vac to Bao Lac
There is a market daily in the town centre of Meo Vac used mainly by the White Hmong, Tay and Lo Lo hill tribes. Women dressed in their brightly coloured traditional clothing walk into the town carrying their bamboo woven baskets laden with corn and vegetables. Today we follow a remote mountain road to Bao Lac. After a 5km uphill cycle we make a 20km descent the follow a fairly flat road for the next 10km. The surrounding landscape with predominantly limestone formations is a surreal vista of peaks, troughs, towers and caves. The crops and dwellings seem to perch precariously on the hillsides. There's a relatively gentle uphill climb of 250m before we descend for the final 30km along flat terrain. We will pass people from the local minority communities along the way dressed in their vibrant tribal costumes. We stay tonight in Bao Lac
Accommodation: Hotel (B, L)
Cycling distance: 74km
Total climb: 1,004m
Total descent: 1,770m
Day 7: Bao Lac- Cao Bang
Even in this isolated mountain town there is a busy morning market. We set off for a full day of cycling along challenging terrain but the road is quiet and well surfaced. We cycle through a pretty valley of limestone mountain to the Thong Nong , heading on to Cao Bang we continue along challenging terrain, but the unparalleled beauty of our surroundings more than compensates for the challenges of the cycling. Overnight in Cao Bang
Accommodation: Hotel (B, L, D)
Cycling distance: 108km.Total Climb: 2,845m Total descent: 2,571m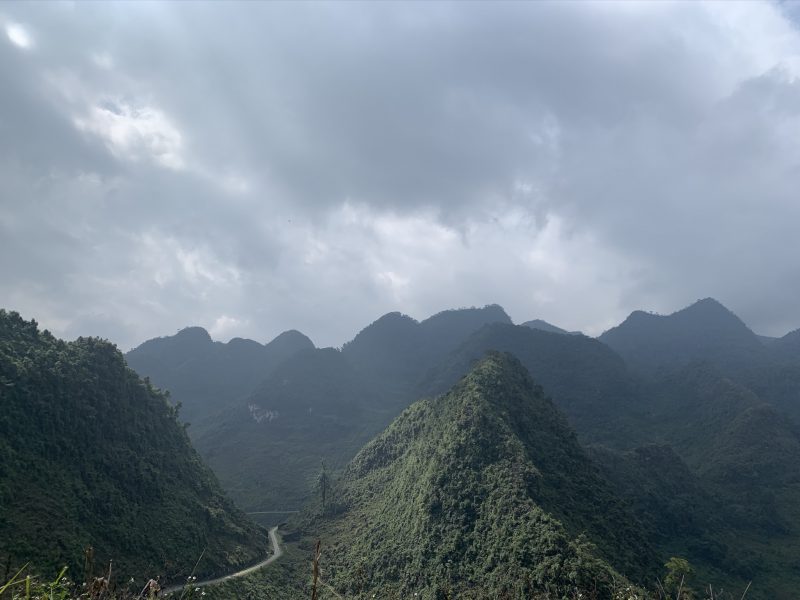 Day 8: Cao Bang relaxing
Full day free time and relaxing in Cao Bang ( B)
Day9: Cao Bang – Lang Son
This morning we cycling back road to Lang Son town then pack up our bikes and have a transfer back to Hanoi. We can relax this afternoon and enjoy the bustle and lively pace of Hanoi after our journey through the remote mountains.
Drop off in Hanoi  Hotel ( around 16:00 ) (B, L) end of services
Accommodation: Hotel (B, L, D)
Cycling distance: 118km.Total Climb: 845m Total descent: 571m
Self guide tour price:
| | | | |
| --- | --- | --- | --- |
| Group size | 2 people | 3-4-5 | 6-8 |
| Price/person | 1,580USD | 1,440USD | 1,310USD |
Self-guide tour including :
Pick up car transfer luggage, bicycle, biker
Bicycle rental : Cinelli superstar
Hotel 2* with breakfast.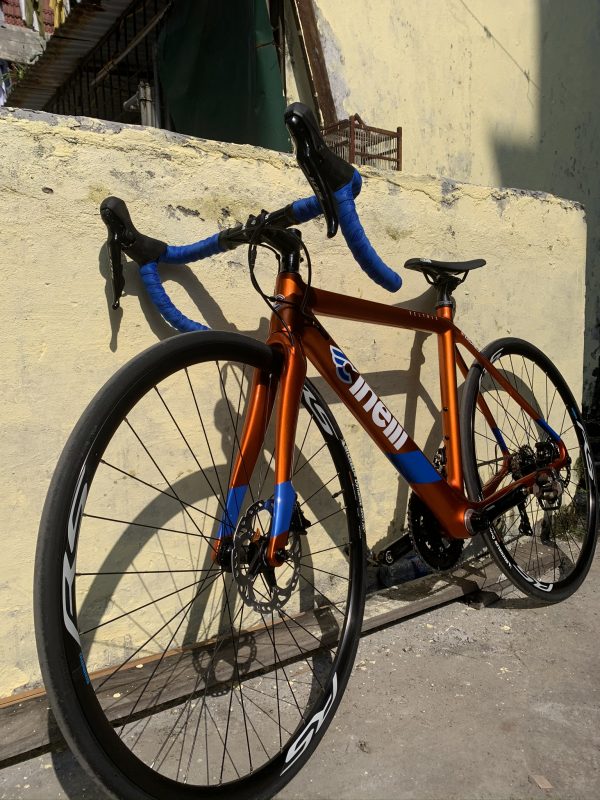 Summary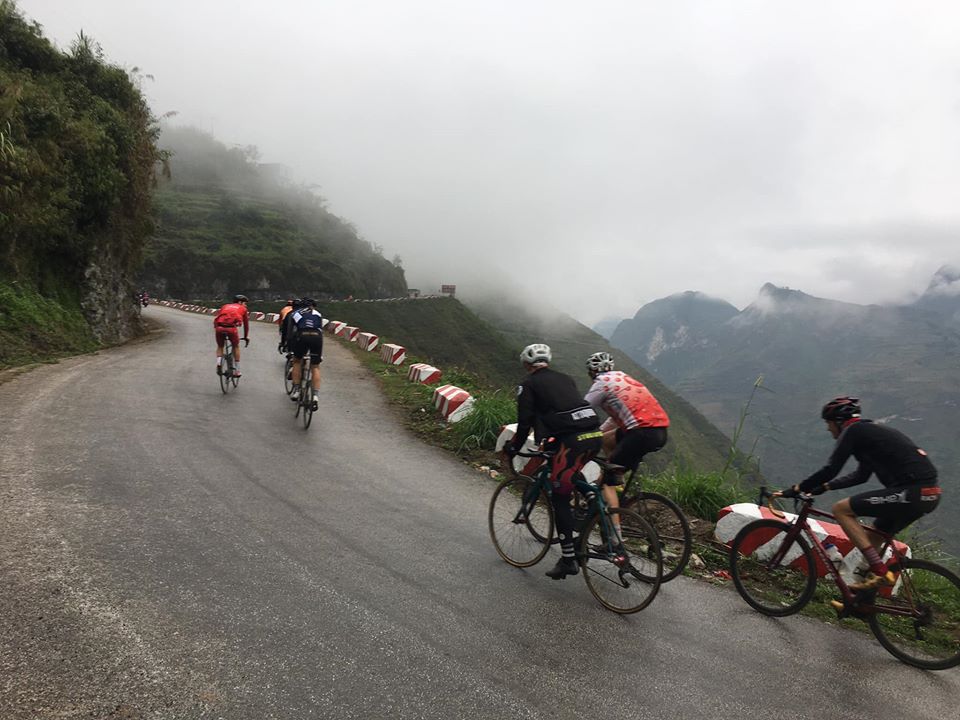 Brand Name
Product Name
Road cycling to Dong Van Karst Plateau Geopark