Top Vietnam Cycling tours
from Quy Nhon to Nha Trang is a fantastic way to experience the stunning beauty of Vietnam's central coast. The route winds through charming villages, lush rice paddies, and dramatic mountain ranges, offering breathtaking views at every turn. One of the highlights of the journey is crossing the longest wooden bridge in Vietnam, which spans over 2.5 kilometers and snakes through a picturesque valley.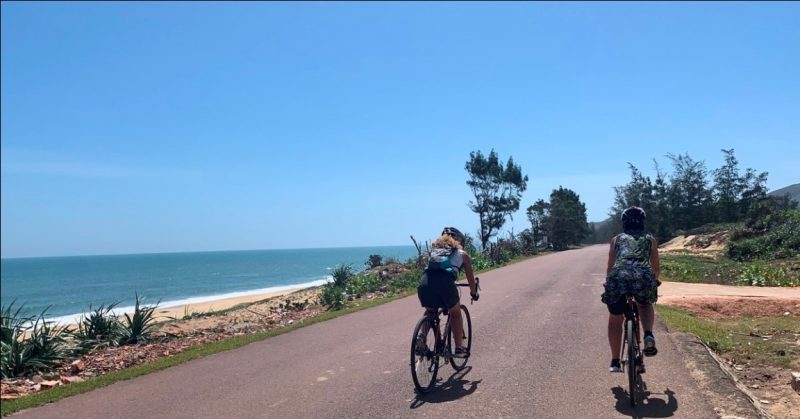 The cycling itself is relatively easy, with mostly flat terrain and well-paved roads. However, there are a few challenging hills along the way, which will reward you with even more spectacular views. The entire route is approximately 150 kilometers long, and can be comfortably completed in 3-4 days.
Here is a suggested itinerary for a 3-day cycling tour from Quy Nhon to Nha Trang:
Day 1: Quy Nhon to Tuy Hoa (40 kilometers)
Start your day early and make your way out of Quy Nhon, following Highway 1A South.
Take a short detour to visit the ancient Cham towers of Po Nagar, which date back to the 8th century.
Continue cycling along the coast, enjoying the beautiful views of the South China Sea.
Arrive in Tuy Hoa, a charming coastal town, in the late afternoon.
Day 2: Tuy Hoa to Dai Lanh (50 kilometers)
Leave Tuy Hoa and continue cycling along Highway 1A South.
Take a break to visit the Vinh Xuong Pagoda, a serene Buddhist temple located in a lush forest setting.
Ascend the Hai Van Pass, a challenging but rewarding climb with stunning views of the surrounding mountains.
Descend into Dai Lanh, a beautiful beach town with a relaxed atmosphere.
Day 3: Dai Lanh to Nha Trang (60 kilometers)
Enjoy a leisurely breakfast in Dai Lanh before setting off on your final leg of the journey.
Cycle through a series of small villages and rice paddies, soaking up the local way of life.
Cross the longest wooden bridge in Vietnam, a truly memorable experience.
Arrive in Nha Trang, a vibrant coastal city with a bustling beach scene, in the late afternoon.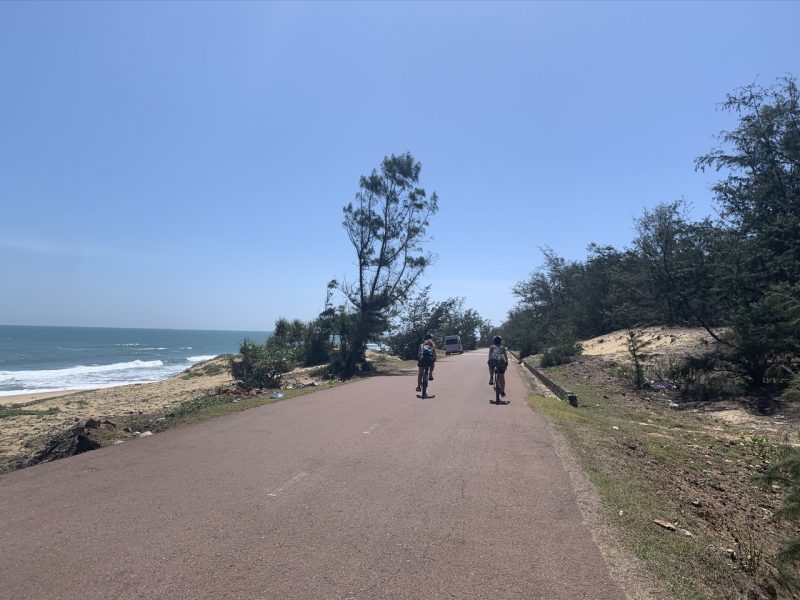 This is just a suggested itinerary, and you can tailor it to your own fitness level and interests. There are many other places to stop and explore along the way, so feel free to take your time and enjoy the ride.
Here are some additional tips for cycling from Quy Nhon to Nha Trang:
Make sure you are in good physical condition before attempting this trip.
Be prepared for hot and humid weather, and pack plenty of sunscreen and water.
Wear a helmet and other protective gear.
Be aware of your surroundings and watch out for traffic.
Enjoy the scenery and the experience!
Planning a cycling trip from Quy Nhon to Nha Trang can be an exciting and rewarding adventure. Here's a step-by-step guide to help you plan your trip effectively:
Step 1: Choose Your Route
The most popular cycling route from Quy Nhon to Nha Trang follows Highway 1A, a well-paved national highway that hugs the coastline. This route offers stunning views of the South China Sea, charming villages, and lush rice paddies. However, it can also be quite busy with traffic, especially during peak hours.
If you're looking for a quieter and more scenic alternative, consider taking the coastal road through Tuy Hoa and Dai Lanh. This route winds through less developed areas, offering more peaceful riding and breathtaking views of the mountains and the sea.
Step 2: Determine the Duration of Your Trip
The distance between Quy Nhon and Nha Trang is approximately 150 kilometers, which can be comfortably cycled in 3-4 days. However, you can adjust the duration of your trip based on your fitness level, desired pace, and interest in exploring the region.
Step 3: Plan Your Accommodation
There are numerous accommodation options along the route, ranging from budget-friendly guesthouses to comfortable hotels and resorts. You can book your accommodations in advance, especially if you're traveling during peak season, or opt for more spontaneous choices along the way.
Step 4: Gather Essential Gear
Ensure you have the necessary gear for your cycling trip, including:
A well-maintained bicycle suitable for long-distance riding
Appropriate cycling clothing for the weather conditions
Essential tools for bike repairs
Safety gear like a helmet, reflective vest, and lights
Hydration pack or water bottles
Snacks and energy supplements
Personal items like toiletries, sunscreen, and insect repellent
Step 5: Train and Prepare
Regular training and fitness activities will help you prepare your body for the demands of cycling. Gradually increase your riding distance and intensity to improve your endurance and strength.
Step 6: Plan Your Itinerary and Logistics
Map out your route, including distances, elevation changes, and potential rest stops. Research accommodation options and make reservations if necessary. Consider factors like transportation, luggage storage, and emergency contact information.
Step 7: Pack Your Bags
Pack your belongings carefully, ensuring your gear is secure and accessible during your ride. Consider the weather conditions and pack accordingly.
Step 8: Enjoy the Journey
Embrace the experience of cycling through Vietnam's beautiful countryside, immersing yourself in the local culture and taking in the breathtaking scenery. Be flexible and adaptable, and savor the moments of challenge and reward that make cycling adventures so memorable.