Ha Giang cycling tour to Dong Van Karst Plateau Geopark is located in Hà Giang Province, the northernmost province in Vietnam. It takes up most of the area of four of the province's districts: Mèo Vạc, Đồng Văn, Yên Minh, and Quản Bạ. The area of the geopark is 2356,8 km2. The average elevation within the geopark is 1400 to 1600 meters above sea level.[1]
About 80% of the area of the geopark is covered by limestone. There are many huge mountains here, the highest one is Mount Mieu Vac (1971 m), meanwhile, there are also many deep canyons, the deepest one is Tu San (about 800 m).
The climate of the geopark varies depending on elevation, but the majority of the park has a temperate climate with two seasons: rainy season and dry season. The annual mean temperature is 24 to 28°C, but it may drop down to 5°C in the winter.
Ha Giang cycling tours is challenging road biking from Ha Giang to Cao Bang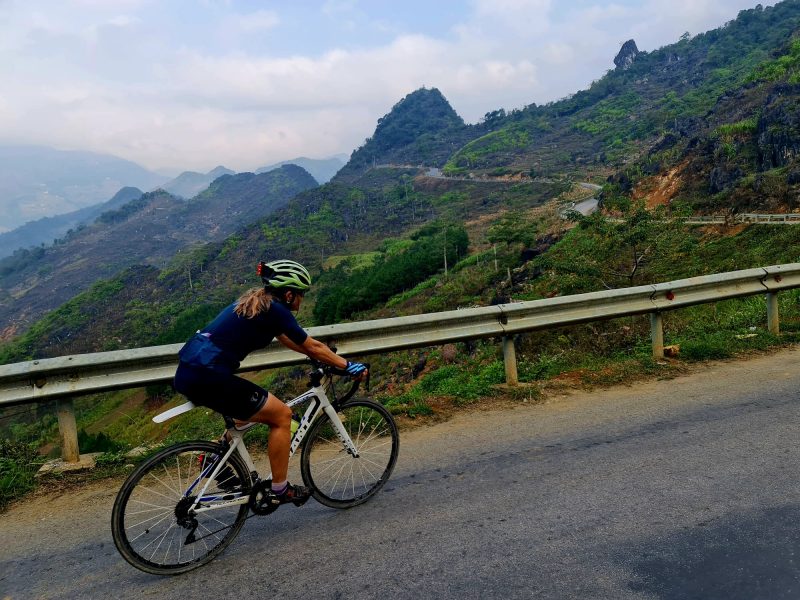 Dong Van karst plateau Geopark consists of four districts, namely, Meo Vac, Dong Van, Yen Minh, Quan Ba. Located in the North of Ha Giang province – Viet Nam. It shares border with china in the north, total area of over 2.346 km2 . The karst plateau is created by at least 80 percent limestone and many fossils of ancient creatures species from 400 – 600 million years ago. Its average elevation is 1400 -1600 meters above sea level.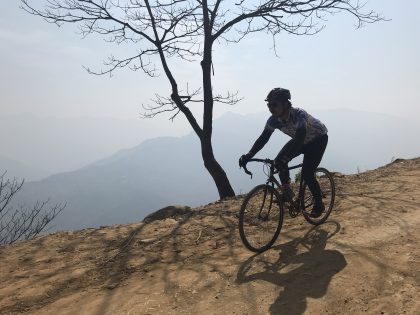 November 28, 2019bikingvietnam
Off
Highlight of your cycling trip Self-guide cycling Self-guide tour including : Night 1: Hanoi- night train Meet in hotel, transfer.
Dong Van karst plateau Geopark is situated in a temperate climate and divided into two seasons: Rainy and dry seasons. The annual mean temperature is 24 -28 degree celcius, while the winter temperatures may be down to 5 degree celcius.
Dong Van rocky highland Geopark was official 77th member of the Global Geopark Network on 3/10/2010. It became the first global Geopark in Viet Nam, the second in Southeast Asia.
This event is a hall-mark in the process of regional and international integration. Contributing to improve Viet Nam's position in the international arena. Besides, it is also an opportunity for Ha Giang province in particular and Viet Nam in general can exchange, learn, contact. Especially, promotion and introduction the human lands of Ha Giang, the value of Geoheritage and culture in these area.
Currently, the scientists have preliminarily made statistics of 45 geomorphic heritages, 33 tectonic heritages and numerous fossils in the sediment stone stratums on Dong Van karst plateau Geopark. Of which, there are 26 breed and species in the world, the first time which has been found in here and named Geographical after Ha Giang. Many Geoheritages have been ranked in National level and International level such as, the system of fault valleys in Nho Que river, Tu San canon – Ma Pi Leng pass under the type of tectonic and geomorphic heritage. Folds in calcareous karst in Ma Pi Leng, Quan Ba and many other places, etc.
Dong Van rocky plateau not only is sculpture product, a historical rocky page of the nature present to human people but also contain a lot of potential values such as, Geoheritages, bilogical diversity, tourism, fossils…Especially, the cultural of community 17 ethnic groups on Dong Van karst plateau Geopark, traditional beauty need preserving and promoting.
Dong Van Karst Plateau is unique combination between Geoheritages and cutural heritages. Which has created great potential for tourism and attracted many visitor within and outside country. ow is the time to ride the Ha Giang Extreme North Loop: before mass tourism arrives (which it inevitably will, especially as more travellers choose Ha Giang as an alternative to Sapa, which has suffered terribly from over-development) but after the completion of necessary infrastructure.
At the end of November 2004, Marco Polo Vietnam began to arrangement road cycling tours to Ha Giang. We had the opportunity to have many cycling tours to explore and experience the Global Geopark (DTC) – Dong Van rock plateau one of this are 30 tourists from Australia. The journey of more than 150km through many famous tourist sites has completely conquered visitors.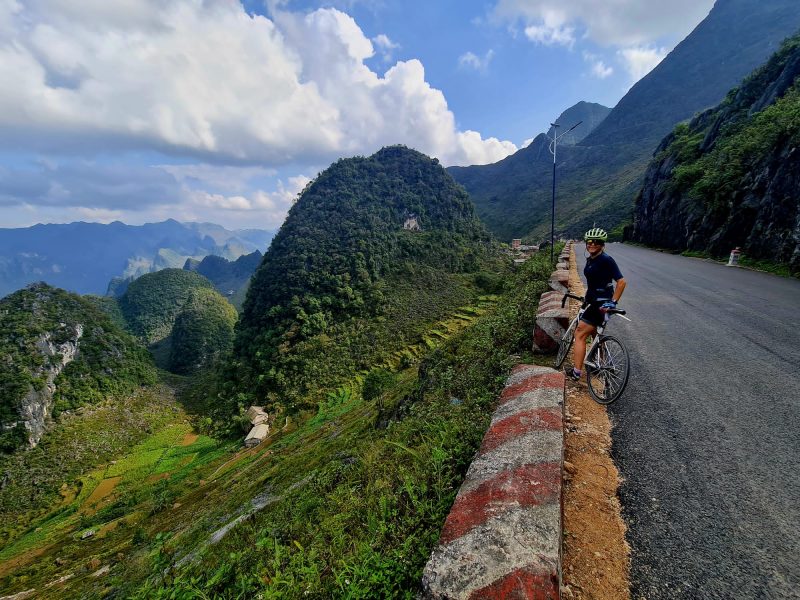 From bikingvietnam website: Since the Dong Van rock plateau was recognized by UNESCO as a public park, there have been many visitors booking the tour to Ha Giang. And this time, 30 tourists from Australia Company chose vehicles not cars, motorcycles but bicycles. In order to organize this tour, the Company not only ensures safety factors for visitors during the journey, but also prepares food, water and chooses guides who understand the terrain as well as customs and practices. shops of local people. When participating in this tour, visitors can not only explore the majestic mountains, walk on the sleeves, with the steep slope lying on the slopes, learn about the life and culture of the people. race, but also increased endurance, endurance for health. In addition, this is also a form of green tourism environmentally friendly.