Thailand-Cambodia-Vietnam Bangkok to Hanoi cycling
TOUR HIGHLIGHT:
This trip is designed to start in Bangkok – Thailand, plan to riding  in three of Southeast Asia's most diverse and fascinating countries. Thailand , Cambodia, Vietnam . But in first year opening we just cycling in Cambodia and Vietnam . From Bangkok we head into the border, riding quiet back roads over to Cambodia. Cycle to  SiemRep visit temples of Angkok Wat  before we head to Mekong delta in Vietnam . The tour will have end of  riding in SaiGon for departure flight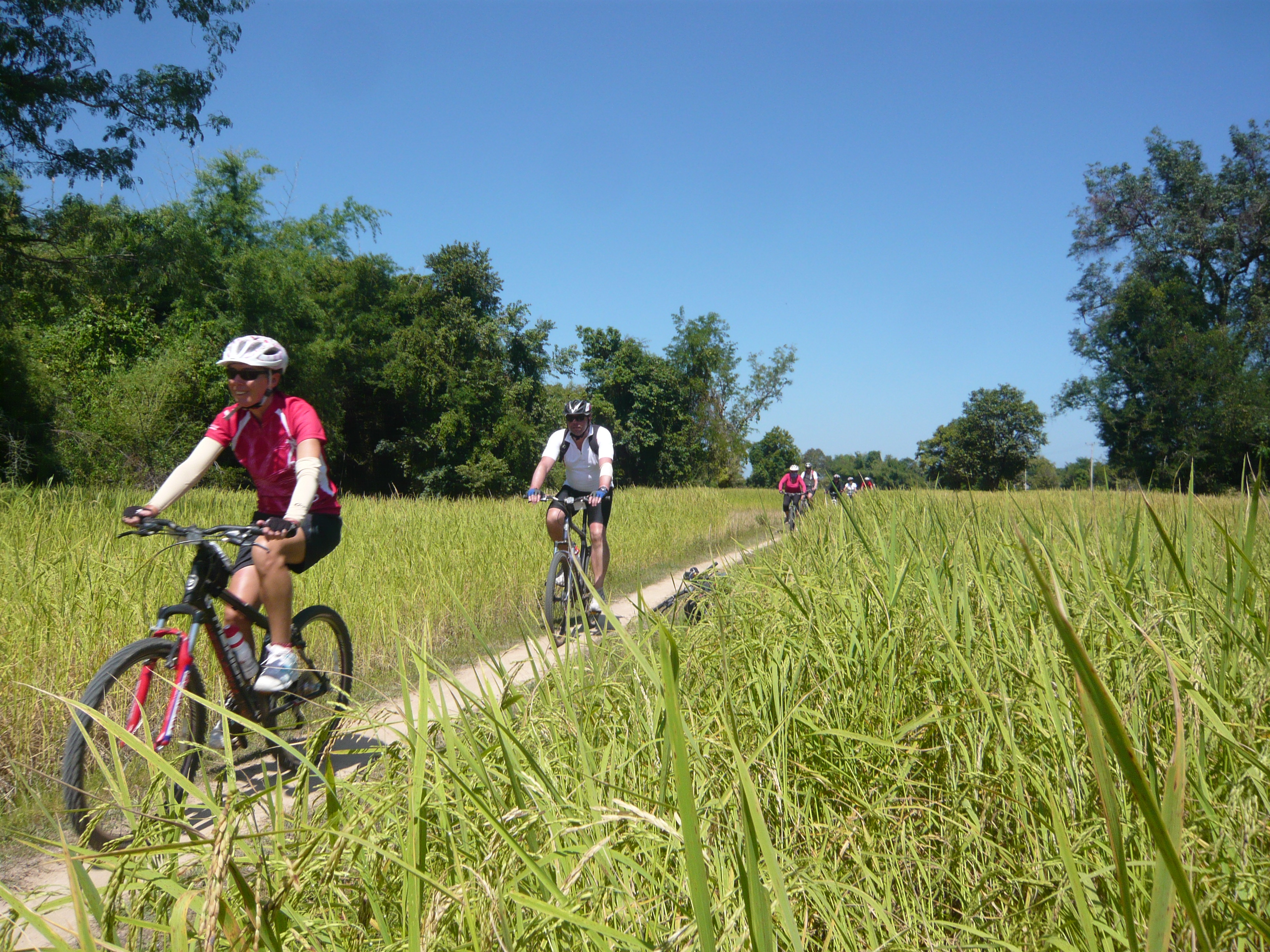 Day 1: Bangkok – Sisophon (Lunch, Dinner)  , 45km
Our guide contact with you a day before for prepare the bikes. Then we start today for Aranyaprathet. After crossing border to Cambodia, we will ride in the afternoon 45 km to Sisophon for overnight.
Day 2: Sisophon to Siem Reap (Breakfast, lunch, dinner) 95Km
Start a longer ride today to Siemreap. Sights of rice paddies, local schools, villages, pagodas on the way. Overnight Siemreap.
Day 3: Around Siem Reap – Angkor temples circuit (Breakfast, lunch, dinner) , 30Km
Ride from Siem Reap to explore the World Heritage site – Angkor temples, following countryside trail and then paved road of small circuit. Overnight in SiemReap
Day 4: Siem Reap – Banteay Srei – Beng Mealea (Breakfast, lunch, dinner) 80 km
Morning ride 35km to Banteay Srei – the Citadel of the woman, build in year 967, laterite wall, beautiful sculpture on red sand stone. Then we keep on riding 15km on countryside road to Phnom Kulen Mountain. First stage challenging climb up hill 12km to the waterfalls, this is a nice trail on Kulen mountain, taking us to a special stream with thousands lingas in the water. Spend the night in a typical Khmer house.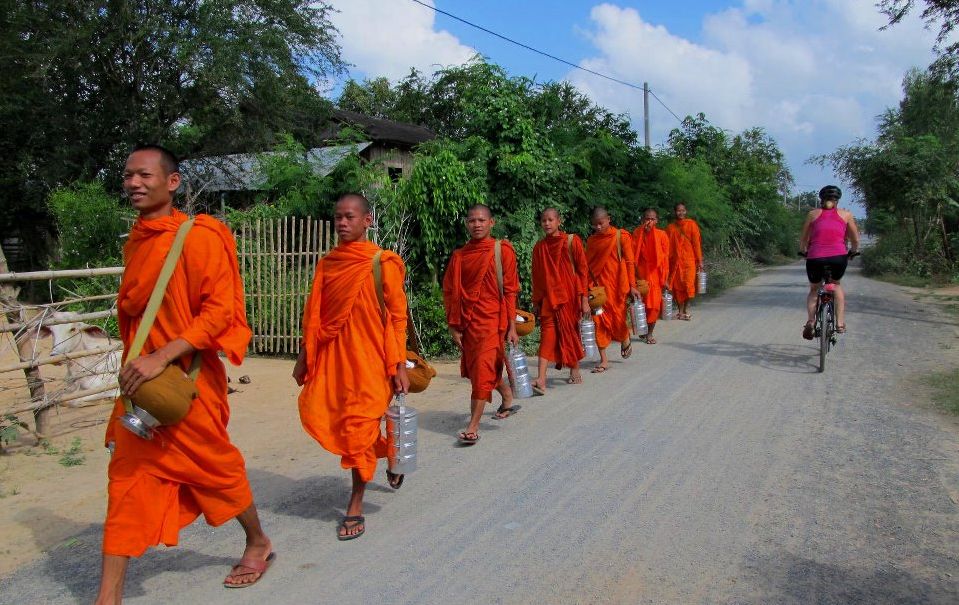 Day 5: Beng Mealea – Kompong Thom (Breakfast, lunch, dinner) ,100km
Get ready for a long day. We riding from BengMealea to the main highway 6 then connecting SiemReap and Phnompenh.  Night spent at local hotel in Kompong Thom.
Day 6: Kompong Thom – Phnom Penh (Breakfast, lunch, dinner) , 90km
Put on your tough suit today. It is another long day, but we are ready for it. We ride along the national road to KompongThnor and little on higher hill to Skun. In the afternoon we keep on 75km to Phnom Penh. Last crossing Japanese bridge over the Tonlesap river to enter Phnom Penh city. Overnight in hotel in Phnom Penh
Day 7: Phnom Penh – TaKeo (Breakfast, lunch, dinner) , 80Km
This will be an easy day and relaxing your leg. Morning check out and ride along the Tonle sap river for a quick sightseeing tour on the bikes: National museum, Royal palace, Cambodia – Vietnam Monument and group photo at . Then we head down south of the city and follow highway 2 to TaKeo. O/n at local guesthouse in Takeo.
Day 8: TaKeo – Phnomden – TinhBien – ChauDoc (Breakfast, lunch, dinner) 80km
We have a flat to undulating day, with a quiet start inland on country roads for 50km through a scenic rice paddies to Phnomden border. Time to say goodbye to our Cambodia staff and get ready for custom procedures exit Cambodia / enter Vietnam at TinhBien border gate. Our Vietnamese team welcome us, then we keep on cycling 25km to ChauDoc.  Overnigh in ChauDoc.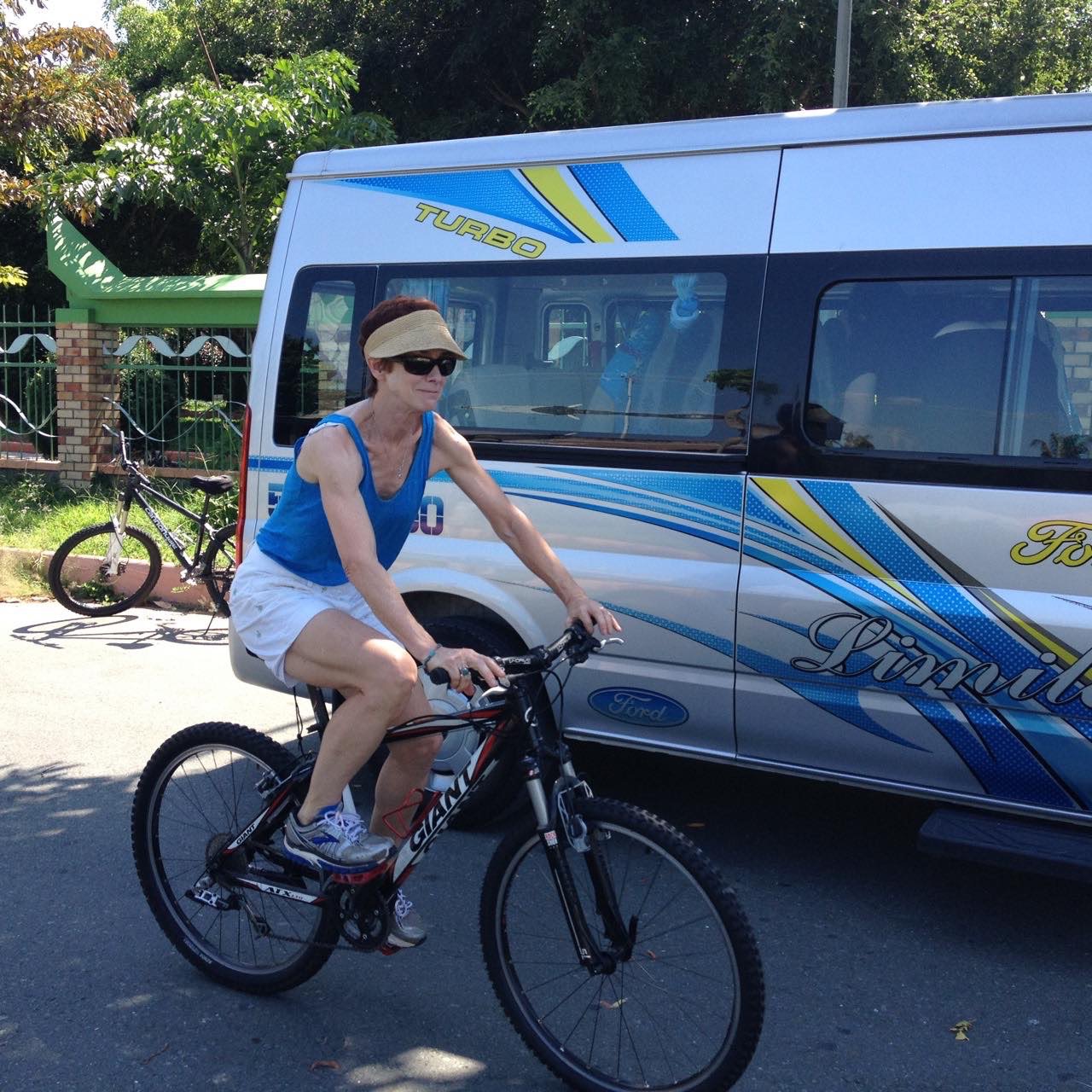 Day 9 : ChauDoc – SaDec – VinhLong (Breakfast, lunch, dinner)
Up early for a boat cruise through the fish-farm village producing tons and tons of fish beneath hundreds of floating homes. Discover the ethnic Cham village with its famous Mubarak Mosque and observe local women at their traditional weaving. Driver to LongXuyen town, then we cross the local ferry and mount our bikes for ~ 60km cycling to Sadec. In the afternoon we cycle to VinhLong, ferry crossing again and ride 10km on small trail on island to an eco guesthouse by the mekong river. Overnight in local house.
 Day 10 : VinhLong – CaiBe – MyTho – SaiGon. (Breakfast, lunch)
Up early morning for a short ride 10km around the island, see the local markets on island. Boarding on boat for cruise over the mekong river and in natural waterways to CaiBe, visit this floating market. Start cycling on countryside road , through immense rice fields and numerous rural riverside villages to MyTho, and transfer to HCM city / Saigon. Hotel check in. Farewell dinner. End of first route
 Day 11: SaiGon -DaLat. (Brekafst, Lunch) (cycling +- 80 km)
Our morning departure from your hotel at 7: 00 AM,  driving do Dinh Quan where we stat cycling ,whole day cycling up to Dalat . Cycling in asphalt road behind beach and take back rod up to Dalat.
Overnight in Dalat.
Day12: DaLat  to NhaTrang ( cycling +- 90 km) (Brekafst, Lunch)
Morning Cycling from Dalat to along the flat to the six-mile climb up NgoanMuc Pass  into the beautiful pine forest of the center Highlands around DaLat. Small villages and strawberry, carrot and other crops line the empty road passing into  Thap cham bus shuttle past from PhanRang  to CamRanh bay location and  NhaTrang. Overnight in Nhatrang.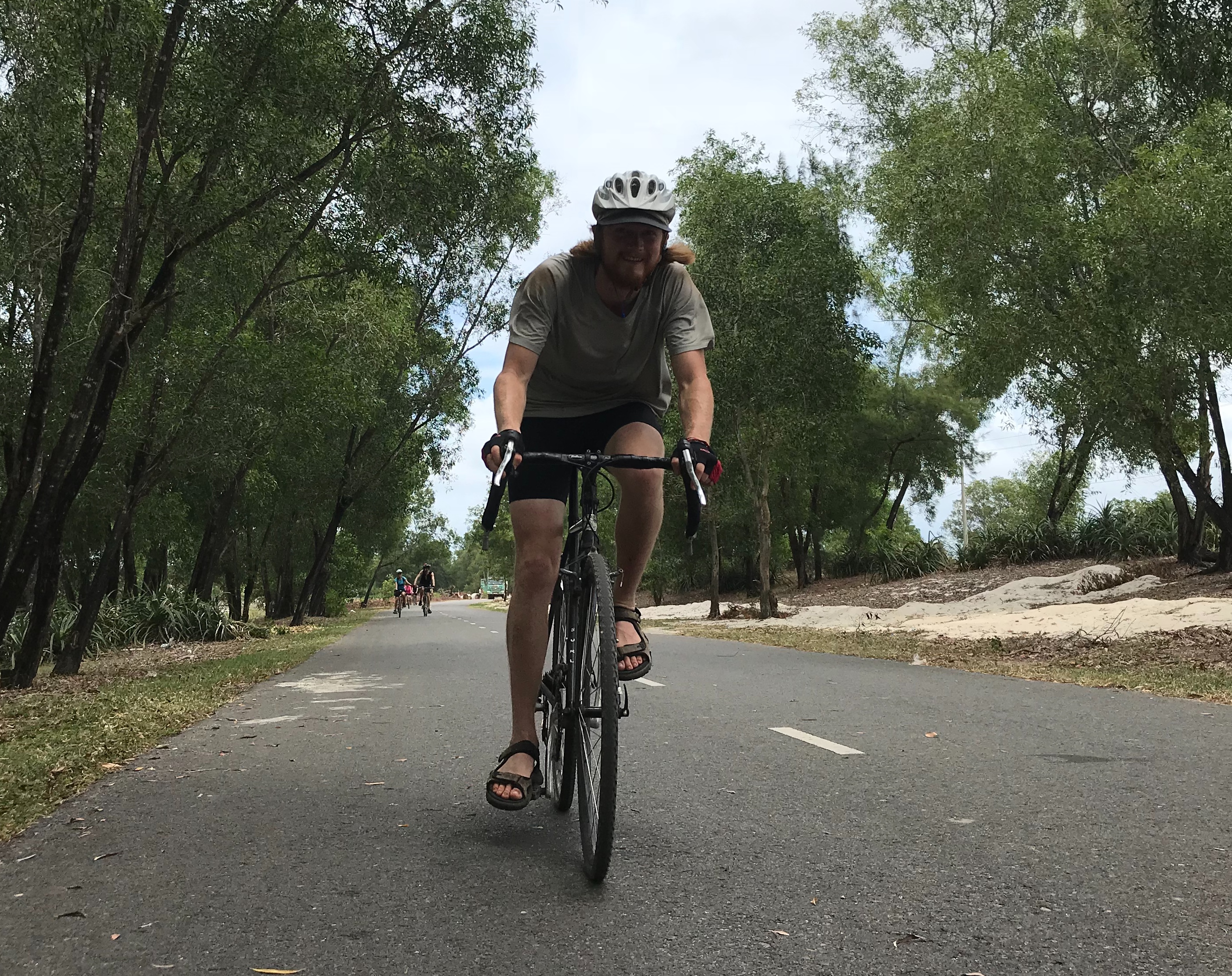 Day 13: NhaTrang (  cycling +-  30 km ) (Brekafst, Lunch)
VietNam's finest oceanfront city. Half-day boat excursion to nearby island and a marine reserve. Snorkeling and swimming over flowering coral reefs in warm, clear water, followed by sunbathing and  lunch. Cycling tour of NhaTrang, including Lon Song pagoda and PoNaGar Cham ruins. Dinner featuring shrimp spring roll, fried squid with pineapples, steamed crab, fresh fish and other seafood delicacies. Evening free to walk along the beach. Overnight in Nhatrang.
Day 14: NhaTrang to QuyNhon ( cycling +- 80 ) (Brekafst, Lunch)
 Leaving at 6:30 Am , driving 100km to Tuy Hoa , back road riding from there  to Quy Nhon covers some of VietNam's scenic coastline, featuring deserted blue lagoons and stone promontories overlooking the water below. Fishing villages dot the coast here.Not many travelers her, so lot of attention can be expected. Overnight in Quy Nhon. 
Day 15: QuyNhon to QuangNgai ( Cycling +- 55 km) (Brekafst, Lunch)
Early coastal riding followed by back road to Binh Duong  – which is also a nice place for a dip in the cooling South China Sea with past rural rice villages canopied by swaying coconut palm. End of cycling in BinhDuong, driving to Quang ngai. Overnight in Quang Ngai.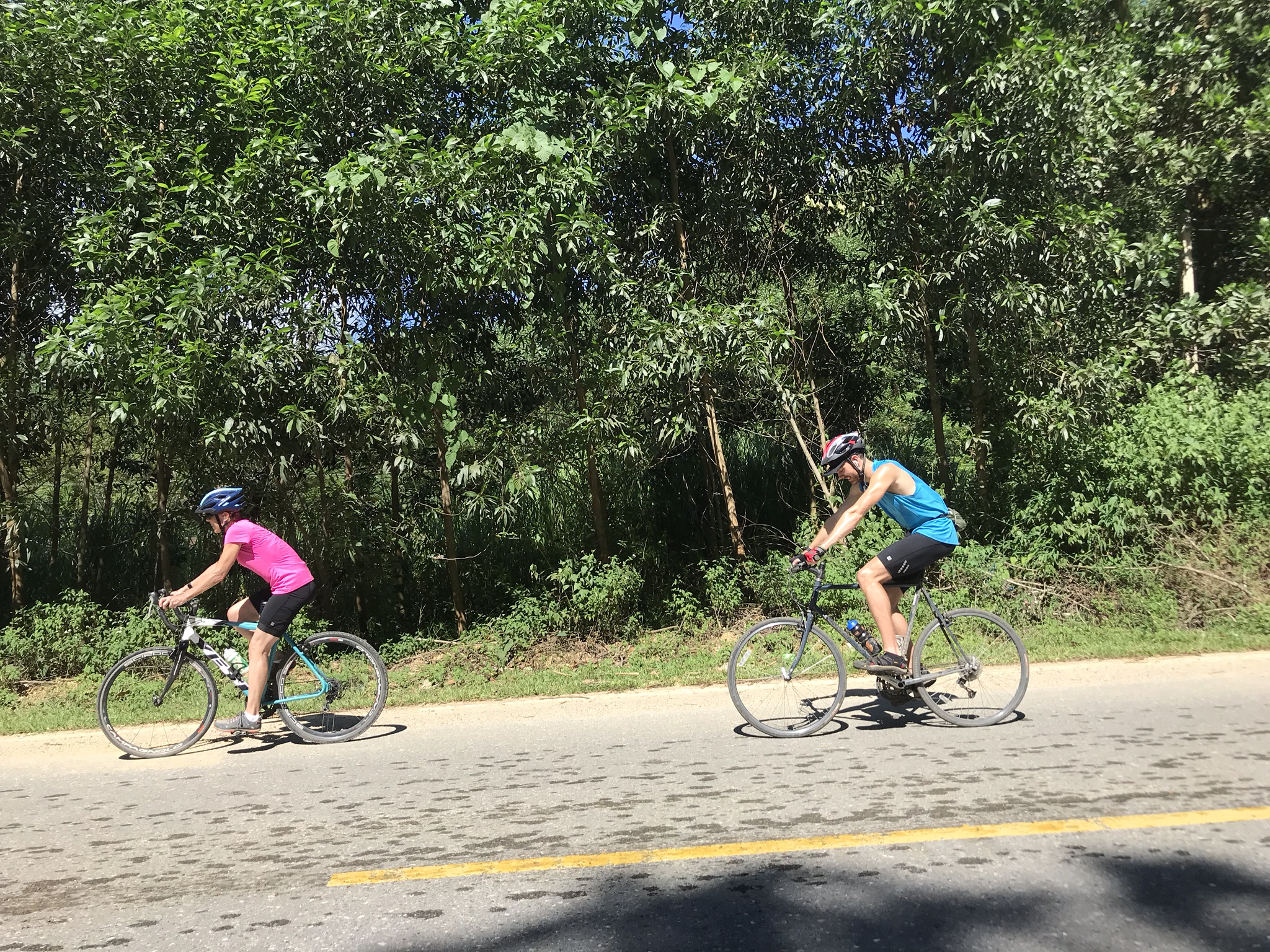 Day16:QuangNgai to MyLai- HoiAn / ( cycling +- 45 km) (Breakfast, Lunch)
Depart early along the coast and past scenic rice village. Lunch near a "secret" Cham sight. Regroup at ChuLai, a former American military base, and board our buses for the drive in to the MyLai Memorial.  Driving to Hoi An. Overnight in HoiAn. (B,L)
Day17:HoiAn ( Cycling +- 20 km)  (Brekafst, Lunch)
In the morning Vietnamese cooking lessons in town featuring local specialties by one of VietNam's most talented chefs. PM cycling  tour of HoiAn – to CuaDai beach on the south China sea for a clam bake, then take boat trip excursion on the river. Overnight in Hoi An.
Day18: HoiAn to Hue (Cycling +- 80 ) (Brekafst, Lunch, Dinner)
Our group will leave early in the morning for the top of Hai Van Pass by bus shortly after breakfast. Then we riding down to Lang Co lagoon, an ascent of the pass with stunning views of the coast and a thrilling 5-mile descent from the top of the green rice fields, back road cycling to Thuan An beach, which we will skirt by on our way to Hue. Overnight in Hue. 
Day19: Hue- Hanoi:
Morning driving from Hotel to the ancient Imperial Capital of VietNam set on the romantic Perfume River – arguably VietNam's most pleasant and picturesque city. After one hour visit in there, we will cycle along the tranquil Perfume River and through the high-walled Imperial Citadel, to the peaceful ThienMu Pagoda, Minh Mang King mausoleum. Boat trip back to train station, take overnight train to Hanoi. Overnight on train. (B,L)
Day20: Hanoi arrival at 5:00 in the morning, transfer to hotel for breakfast, then free time visit Hanoi. Overnight in Hotel in Hanoi.
Day21: Hanoi departure ( or take extension 2 days Halong bay cruise )
| | | | | |
| --- | --- | --- | --- | --- |
| Group Size |  2 | 4-5 | | |
| Price /person | 6,490USD | 5,870USD | | |
THAILAND VIETNAM CAMBODIA CYCLING INCLUSIONS
Air conditioned support vehicle
Accommodation (aircon)
English speaking local guide
English speaking local cycle guide / mechanic
All entrance fees for attractions included in the above itinerary
Daily drinking water, cool face towels & snacks whilst cycling
All boat trips as detailed
All meals as detailed in the above itinerary
(B = Breakfast – L = Lunch – D = Dinner)
THAILAND VIETNAM CAMBODIA CYCLING EXCLUSIONS
Services not detailed in the above itinerary
International flights to Vietnam / from Cambodia
Vietnam & Cambodia Visa fees
Any airport taxes
Bicycle, however they can be hired for $120
Expenditure of a personal nature
Drinks with included meals
Discretionary Tips
Travel insurance
Payment / money transfer charges