Cycling Saigon to Angkor Wat
Your Cambodia cycle tour of Vietnam begins with easy cycling as you explore the wonderful watery world and traditional lifestyle of the Mekong Delta. After a few days you bid farewell to Vietnam and enter Cambodia via a remote coastal border crossing. Cycling through Cambodia you pass endless rice paddies, take breaks in everyday villages, explore the charming capital Phnom Penh, ride through shady rubber plantations, before culminating in the discovery of the spectacular ancient temples of the mighty Khmer Empire. For anyone wanting to discover the real Vietnam and Cambodia, this is the tour for you!
On arrival in Saigon (Ho Chi Minh City) you will be met at the airport and transferred to your hotel. After checking-in you are free at leisure for the rest of the day.
Day 2:SaiGon – MyTho – BenTre – TraVinh (L,D) (+- 80km )
Driving to  LongAn, start cycling through rice fields and dragon fruit orchards. Lunch  in MyTho town. Pass ferry and keep on country road to enter the town. A wonderful day with picturesque ferry crossings over Mekong River branches and islands. Overnight in TraVinh.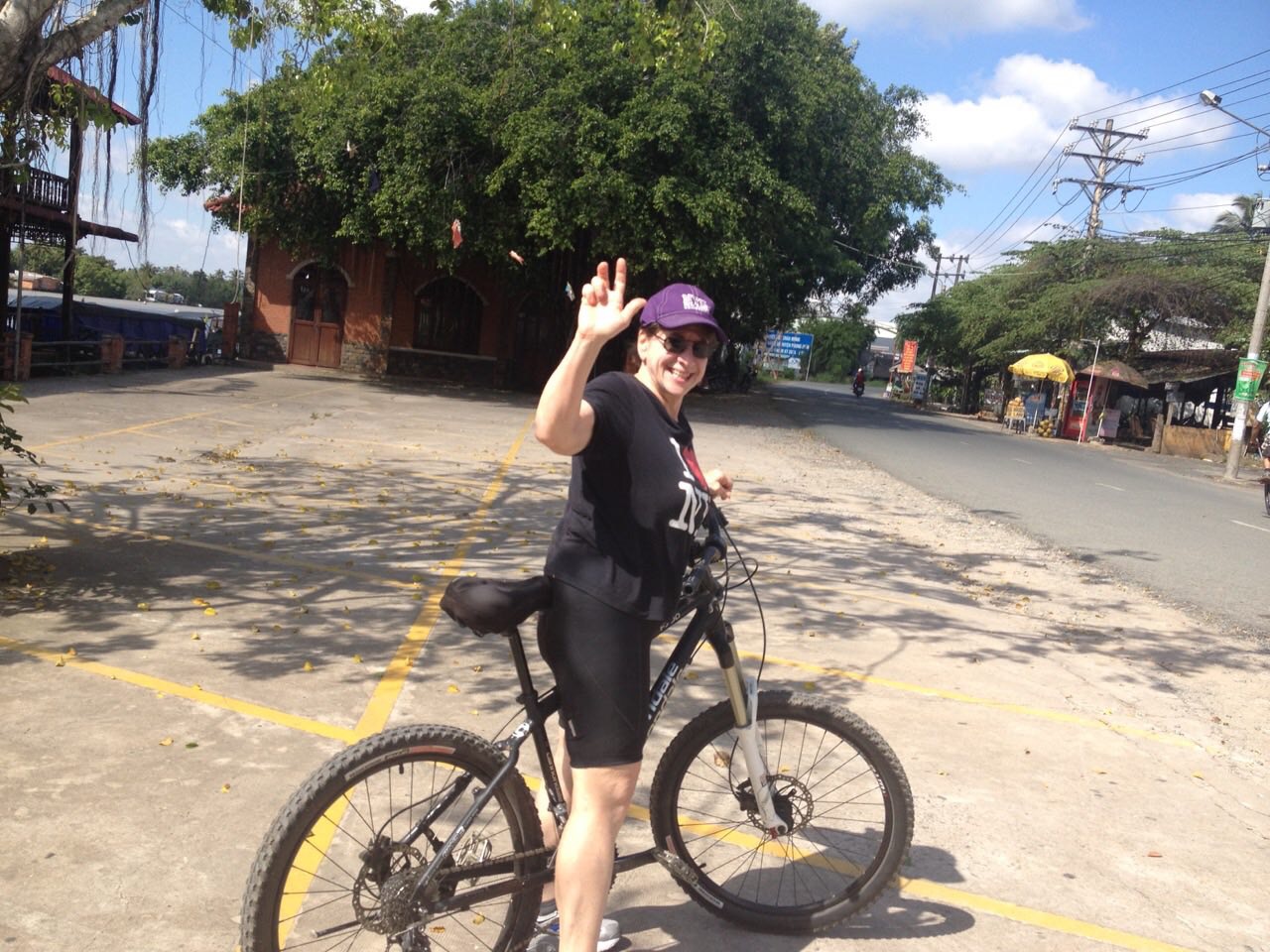 Day 3: TraVinh – CanTho. (B,L,D) (+-95km)
Morning cycling around this town, then warm up by 8km to BaOm pond, see old trees and Khmer pagoda nearby the pond. At TraOn small town by the mekong river, we take a ferry crossing and keep on 18km to BinhMinh, crossing ferry to Cantho for overnight. Overnight in CanTho
Day 4: CanTho – RachGia (B,L,D) (+-110 km)
Morning take  boat trip to Cai Rang floating market, then we have a longer cruise on a quiet country road to take in the magnificent scenery and get close to the locals as they go about their daily routine. Late afternoon take ferry crossing on to RachGia. Overnight in RachGia.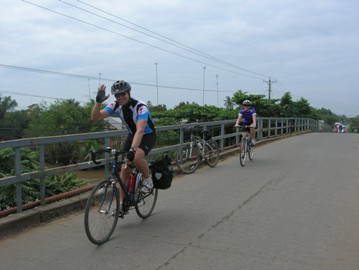 Day 5:RachGia – HaTien (B,L,D) (+-92km)
Ride a long the west coast to this vibrant border town. We turn off main road for ride to HonChong beach area, visit  ChuaHang cave and the Father & Son islet. Keep on to HaTien town. Overnight in HaTien.
Day 6:HaTien – ChauDoc (B,L,D) (+-100km)
Cycle along VinhTe border canal to TriTon,  followed by a ride up the sacred Sam Mountain with its panoramic view over the vast plains of the Mekong Delta and far into Cambodia.  By the late afternoon you arrive in Chau Doc which has a forgotten feel but still retains a certain charm with its shuttered terraces, crumbling colonial buildings and mats of seafood drying in the sun. Overnight in Chau Doc
 This morning you bid farewell to Vietnam . Then take the speed boat to PhnomPenh. experience possibly the most beautiful sunset in Cambodia as the sun slips down behind the nearby river . Overnight in PhnomPenh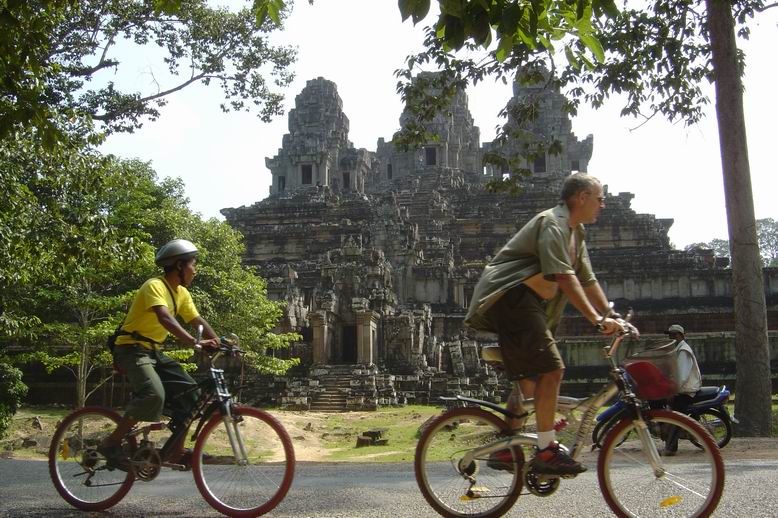 Day 8: Phnom Penh to Kompong Cham (65 – 105km) B / D 
 This morning you leave the busy streets of Phnom Penh and after 40km turn off the main road and enjoy a shady ride following the course of the Mekong River along a mostly unpaved, and at times bumpy road toward the town of Kompong Cham. Foreigners are rare through these parts so expect a few surprised faces as you cycle through the many traditional villages where you will witness people busy with their everyday lives: cooking, cleaning, playing, leading the cows to the river, cycling school kids, pagodas & monks, and the sun-drying of bright red chillies, pepper, rice, and fish by the side of the road, and of course the river life on the mighty Mekong which keeps coming and going from view. There are plenty of cool, shady, scenic spots for rest breaks where the curious locals are sure to want to say 'Hello'. Kompong Cham retains a number of French influenced buildings and trader shop fronts – while often badly dilapidated they retain an austere grace so totally lacking from the more modern concoctions that invariably flank them. Given its small size its easy to explore by foot, which you are free to do after you have checked-in to your hotel.
Day9: Kampong Cham – Kampong Thom (Cycling: 60km)
Leaving the quiet town of Kampong Cham, we will enjoy a brisk 60 km ride on small trails along the edge of the Mekong River and through some mountain ranges. After a stop for lunch, the support vehicle will take us to the town of Kompong Thom, capital of Kompong Thom province which is home to around 200 Angkorian temples.
Meals included: Breakfast and Dinner
 n the morning we cycle 30 km on the main road to visit one of the oldest and most interesting sites in Cambodia, Sambor Prei Kuk. Located in a wild forest, this group of pre‐Angkorian temples was once the capital of the Chenla kingdom and is absolutely unique. Afterexploring the site, we drive in the support vehicle to the busy town of Siem Reap.
 This morning you begin your cycle exploration of the incredible Angkor temples. Today focusing on the Small Circuit which features temple greats such as: the pyramid of Takeo, the jungle-clad Ta Prohm made famous by the Hollywood blockbuster 'Tomb Raider' Sras Srang known as the King's bathing pond; and the impressive Royal City of Angkor Thom, where you will find the Bayon, a temple famed for its many  gigantic carved faces smiling beguilingly down at you. You will also visit other important sites in this immense walled city. After lunch it is time to take on the majestic Angkor Wat, the world's largest religious building. After being initially inspired by its overall size you will explore in more detail, getting up close and personal to fully appreciate its architecture and intricately detailed bas-reliefs. After returning to the hotel you are free at leisure to experience Siem Reap's nightlife which includes many fine restaurants and lively bars.
Today you are free at leisure until it is time for your transfer to Siem Reap / Angkor International Airport for your onward flight, leaving the home of the mighty Khmer Empire with many wonderful cycling memories…
Price: 2,580 USD/person for private tour of 2 people
VIETNAM CAMBODIA CYCLING INCLUSIONS
Air conditioned support vehicle

Accommodation (aircon)

English speaking local guide

English speaking local cycle guide / mechanic

All entrance fees for attractions included in the above itinerary

Daily drinking water, cool face towels & snacks whilst cycling

All boat trips as detailed

All meals as detailed in the above itinerary
(B = Breakfast – L = Lunch – D = Dinner)
VIETNAM CAMBODIA CYCLING EXCLUSIONS
Services not detailed in the above itinerary

International flights to Vietnam / from Cambodia

Vietnam & Cambodia Visa fees

Any airport taxes

Bicycle, however they can be hired for $120

Expenditure of a personal nature

Drinks with included meals

Discretionary Tips

Travel insurance

Payment / money transfer charges
Biking Vietnam Holiday and Tours
Megan Nguyen
Cycling Saigon to Siem Reap
22/12/2014
Hanoi Urban biking, dirt trails mountain bike,Vietnam cycling holiday
Cycling Saigon ( Vietnam ) to Siem Reap ( Cambodia )
5 star