Vietnam biking holiday is one of the best places in the world for a cycling vacation. If you are planning a vacation, Vietnam is the right place to do it, a very nice place for a family or small group cycling vacation or you can simply go alone. Vietnam is for light adventure travel lovers, food enthusiasts… with a bike ride you can visit tourist attractions in Vietnam the length of the country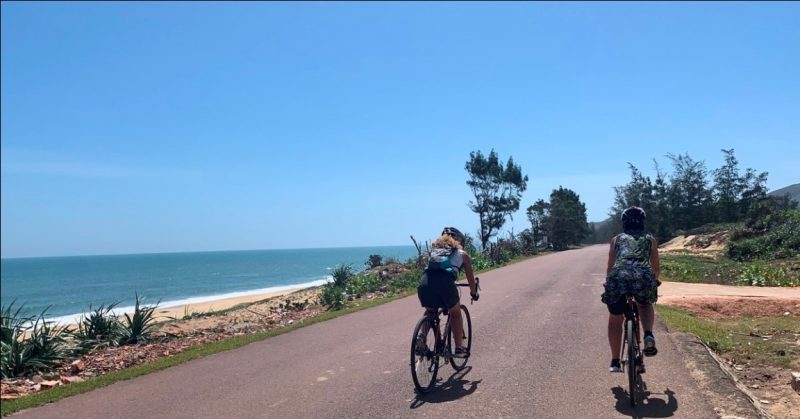 vietnam biking holiday
some of the best cycling in Vietnam is Marco Polo Vietnam Travel
This tour includes biking, boating, visiting some cottage industries, gardens, floating market and locals.
Cyclists are a diverse group. Some of us are fat tire ride down a rocky path, some of us ride a road bike up the hill and bustle, some of us ride for sport and some of us just ride for fun.
There are many health benefits associated with cycling. Let's look at some key benefits: Cycling is one of the easiest ways to exercise you can ride a bicycle almost anywhere, at any time of year, and without spending a lot of money.
As far as I know, cycling locations with lots of good trails and scenic spots are rare in the Vietnam.
And maybe that?s the reason why most cyclists hit the busy streets just to fulfill their heart?s desire.
Riding a bike is good for more than saving the planet and your hard-earned cash. It's also one of the most effective workouts you'll ever do. Here's how it can make you a lean, fat- burning machine.
Riding a bike is a fun way to get fit and spend time with family and friends. Because it is a low- impact form of exercise, cycling can easily be enjoyed by people of all ages and fitness levels.
North Vietnam leisure cycling Embark on a leisurely cycling adventure from Hanoi to Pu Luong and Ninh Binh, immersing yourself in the captivating landscapes and rich cultural heritage of northern Vietnam. This three-day itinerary will guide you through picturesque villages, serene rice paddies, and awe-inspiring limestone karst formations. Day 1: Hanoi to Pu Luong (
+ Read More

---

Cycling Hanoi to Saigon ( Ho Chi Minh City) also known as Saigon, is an epic adventure that takes you through some of the most beautiful and diverse landscapes in Vietnam. The journey is approximately 1,700 kilometers long and can be done in anywhere from two weeks to a month, depending on your level of
+ Read More

---

Top Vietnam Cycling tours from Quy Nhon to Nha Trang is a fantastic way to experience the stunning beauty of Vietnam's central coast. The route winds through charming villages, lush rice paddies, and dramatic mountain ranges, offering breathtaking views at every turn. One of the highlights of the journey is crossing the longest wooden bridge
+ Read More

---
When to go:
We were there in February, when clouds often smother the hills and
temperatures hovered in the 50s and 60s fahrenheit. Vietnam is a country
of microclimates, but the best months in the far north are probably March
through June, when sun is common.September through November are
cooler, not as wet as midsummer nor as cold as winter.
Riding: There are several enticing rides that we didn't do in the area,
including one up to the Chinese border.You could easily spend five days
based in either Meo Vac or Dong Van and do a different mind-blowing
ride every day. The road between the two towns is one of the most spectacular stretches of road on Earth.
Guides:
Marco Polo Travel offers cycling tours in Vietnam with trips in the Ha Giang region and other areas of Vietnam,including Hanoi to Saigon rides. Perhaps the most alluring is a
mountain-bike trip through northern Vietnam that uses dirt trails to connect villages.
On your own:
Buses are available from Hanoi to Ha Giang, where you will need a special
permit to continue deeper into the province. It would be possible to ride
here self-supported on touring bikes, but the constant steep climbs would
require Herculean fitness, distances between towns are daunting, and
decent campsites and surface water are hard to come by. That's assuming
the police and military who patrol this "frontier area" wouldn't lock you up for even trying.
Bikes:
We has many quality mountain bikes but if you expect perfection
— the derailleurs were somewhat misadjusted, one of my Dad's brakes
went out a few times, and my brakes were reversed (right lever controlled
the front brake) — you should bring your own bike. He also rents a variety
of mountain and touring bikes.Cyclocross bikes with strong wheels
or stout touring bikes would be perfect on the roads in Ha Giang.
Maps:
The best single solution for serious navigation is the Vietnam
Administrative Atlas from the Cartographic Publishing House, which shows all of the country'sroads. They're based in Hanoi and the atlases, as well as a variety of other more and less detailed maps
Summary
Article Name
Vietnam cycling holidays stories
Description
Vietnam Is a one of the best places in the world for a cycling holiday. If you have plans for the holidays vietnam is the right place for doing that , the place is very beautiful for family vacation. Vietnam for adventure lovers. beautiful scenery is the best in Vietnam, with a cycling trip you can visit the tourist attractions in vietnam.
Author
Publisher Name
Marco Polo travel-bikingvietnam.com
Publisher Logo