Exploring the Beauty of Vietnam
Vietnam travel is a country full of diverse experiences and breathtaking sights. From bustling cities to lush jungles to stunning beaches, this Southeast Asian nation has something to offer every traveler. Whether you want to explore the rich culture, experience the bustling nightlife, or just relax on beautiful beaches, Vietnam is the perfect destination.
When exploring Vietnam, the capital city of Hanoi is a must-see. This bustling city is packed with history and culture, including ancient temples and monuments, as well as modern attractions. There are also many excellent restaurants and nightlife spots, offering something for everyone.
From Hanoi, you can take a day trip to the stunning Halong Bay. This breathtaking seascape is dotted with thousands of limestone islands, making for a unique experience on your journey. Whether you take a boat tour or just explore on your own, Halong Bay is a must-see destination in Vietnam.
If you're looking for a more laid-back experience, the beaches of Nha Trang are the perfect spot. Relax on the pristine white sand and take a boat tour to explore the nearby islands. You can also find plenty of activities such as snorkeling and kayaking.
For a more adventurous experience, the Central Highlands are a great option. Here, you can explore lush jungles, enjoy outdoor activities like mountain biking, and visit local minority villages.
No matter how you choose to explore Vietnam, you are sure to find a wealth of amazing experiences. From the ancient history and vibrant cities to stunning beaches and lush nature, Vietnam has something for everyone. So what are you waiting for? Start planning your Vietnam adventure today!
The reason why Vietnam Travel has many beautiful scenes but does not attract customers by Singapore
Many people think that Vietnam Travel not effective
Many experts believe that Vietnam Travel possesses abundant tourism resources, but exploitation is not effective.
At the tourism constitution session of the Vietnam Private Economic Forum on May 2, many experts said that Vietnam's tourism resources have not been effectively exploited to increase value. In Southeast Asia, if Thailand is a shopping and resort paradise, Singapore owns many commercial centers.
"Currently the tourism products of Vietnam are not clear what is targeted, leisure or entertainment shopping? Has Vietnam had national commercial products or not?", Mr. Truong Tan Son, representative of Saigontourist Make a question.
Mr. Nguyen Van Tan, General Director of JTB Co., Ltd. – TNT wondered about cultural products that have not been supported for long-term promotion in other countries. "At the beginning, Hue festival, Da Lat flowers, Southern fruits and Dak Lak coffee were roared in communication but not kept long-term heat," he said. Mr. Tan commented that one of Vietnam's unique products is cuisine, which needs support to become more attractive.
In view of Mr. Tan, Mr. Nguyen Cong Hoan, General Director of Hanoi Redtours said that whenever tourism resources are discovered, individuals develop themselves in a way that has not been exploited properly. "Resources are quickly invaded and broken. This makes monotonous, unattractive products even create a bad impression, resulting in fewer guests," Hoan said.
Vietnam is a frequent destination in the world rankings. According to statistics, Vietnam ranked 32nd in the world in terms of quantity and attractiveness of natural and cultural resources with 8 UNESCO world heritage sites.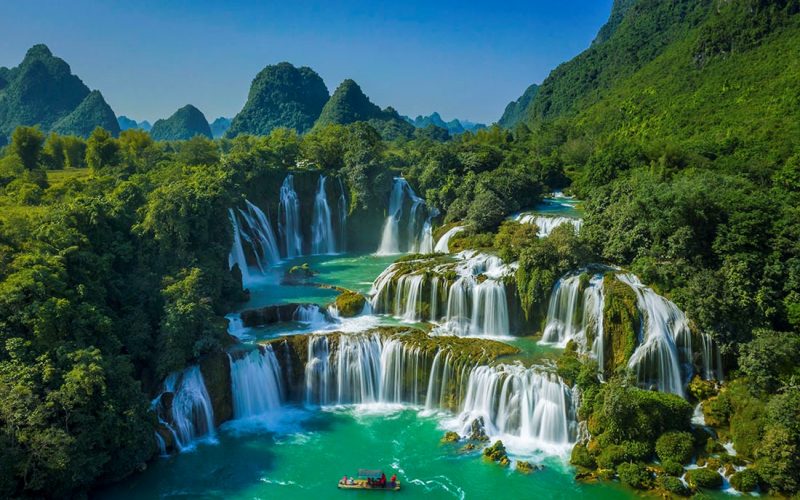 However, according to the World Economic Forum tourism and tourism competition index reports, Vietnam travel only ranked 129/136 countries, considering the sustainability of the environment, while being highly appreciated for natural resources. course (ranked 43). For Singapore, the country's natural resource index is only 103, but the stability of the environment is high, with 51, the highest in Southeast Asia.
This is considered as one of the reasons why Vietnam lost to Singapore in terms of tourists. In 2018, international visitors to Vietnam grew rapidly, reaching 15.5 million but still low compared to 18.5 million visits to Singapore.
Mr. Tran Van Long, General Director of Vietnam Tourism Company said that Vietnam should plan tourist destinations and products for tourists. "Each province has an independent tourism plan that makes the products the same, so the products are classified," he said. Some other shortcomings need to be overcome quickly such as unfavorable traffic, many transshipment passengers, few direct flights, overloaded domestic airports and congestion.
Experts said that tourism resources should be surveyed carefully before exploitation. Tourism needs to pay more attention to revenue and payments from visitors. In order to do that, there should be a combination of travel businesses and service businesses. The development of strategies and planning should set out solutions to affirm Vietnam's tourism brand, attract high-paying customers market, forming quality tourist areas.
Mr. Ha Van Sieu, Deputy General Director of the Vietnam National Administration of Tourism, affirmed: "In order to increase competitiveness, Vietnam also needs to soon form key tourist sites".
[contact-form-7 id="1355″ title="Contact form 1″]